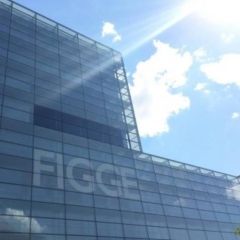 PRESS RELEASE
The outdoors come indoors with new exhibition at the Figge, opening Saturday
April 26, 2021
---
Davenport, Iowa (April 26, 2021) – During an era of social distancing, Quad Citizens have gotten outside to explore the region's parks, hiking trails, and riverfront — perhaps more than ever before. Now, the community can see the natural world through the painting and photography of Tom Uttech in the exhibition Origin, opening at the Figge Art Museum May 1, 2021.
"It's like we are bringing the outdoors in," said Michelle Hargrave, executive director and CEO of the Figge. "Visitors are going to be immersed in Tom's love for nature—in his appreciation for both the small wonders of the world, and the grandiose. We're thrilled to pair one of Tom's pieces from our permanent collection with the exquisite photographs from the Museum of Wisconsin Art's permanent collection."
Tom Uttech: Origin features Kisibakwad, a painting that is part of the Figge's permanent collection, alongside a selection of his large-scale black and white photographs that have not been seen before in the Quad Cities. The exhibition focuses on the artist's enduring relationship with the north woods spanning the upper Midwest and Quetico Provincial Park in Canada. Uttech describes the region as "a land of glacial lakes, boreal plants and animals, and few human inhabitants.When I am there, I feel at home, complete, and invisible." "Through his artwork, Uttech offers viewers new ways to experience and appreciate the world around us," said Figge Assistant Curator Vanessa Sage. "We are fortunate to be able to share his work with the community, and we hope that the exhibition will inspire visitors to connect with nature this summer."
From the late 1960s to the early 1980s, Uttech photographed more than 1,000 rolls of film in Wisconsin, Minnesota, and Quetico Provincial Park in Ontario, Canada—the subject of many of the photographs in Origin. Serene and yet abounding with life, the imagery features trailing vines, heavily forested glens, and dense undergrowth.
While Uttech is an accomplished photographer, he is best known for his landscape paintings. Based on his memories and forged from his imagination, these works have a magical dream-like quality. Kisibakwad is a stunning example of his work wherein dozens of delicately painted birds fly among towering pine trees, and bears and bobcats gaze at us from their home in the woods. Together, these works highlight Uttech's artistic relationship to the north woods while calling attention to our primal connection to nature.
Born in northern Wisconsin, Uttech has had a strong connection with nature throughout his life—as an avid bird watcher, a conservationist, a hiker, and as a painter and photographer. He was a longtime professor of art at the University of Wisconsin (Milwaukee) prior to his retirement in 1998, has had his work exhibited across the country, and is represented in collections of the Crystal Bridges Museum of Art, the Milwaukee Art Museum, the Philbrook Museum of Art, and the Figge Art Museum, among many others.
Tom Uttech: Origin is sponsored by GoGo Enterprises, LLC, and will be on view through August 15, 2021.
For two more weeks only, admission to the Figge gets visitors entrance into both Origin, and the current blockbuster traveling exhibition, For America: 200 Years of Painting from the National Academy of Design, on view through May 16 only. The Figge continues to have mask requirements in-place for the health and safety of all visitors. Capacity limits in each of the galleries mean there's no better time to visit the Figge than right now. Tickets are available at the museum entrance or online in advance, at www.figgeartmuseum.org.
Companion Events:
Artist Talk: Tom Uttech
Thursday, July 1, 6:30 p.m. CT on Zoom
Join artist Tom Uttech as he discusses his working process and the evolution of his artistic practice.
In Conversation with Tom Uttech
Wednesday, August 4th, 3:00 p.m. CT on Zoom
Participate in a conversation with artist Tom Uttech during this special event (limited capacity – sign up now). Free with membership, $5 per household

About the Figge Art Museum:
The Figge Art Museum is dedicated to bringing art and people together. Located on the Mississippi River in downtown Davenport at 225 West Second Street, the Figge is the premier art exhibition and education facility between Chicago and Des Moines. Its landmark glass building, designed by British architect David Chipperfield, is home to one of the Midwest's finest art collections and presents world-class traveling exhibitions, art classes, lectures, and special events that attract visitors of all ages. Museum hours are 10 a.m.­­-5 p.m. Tuesday, Wednesday, Friday, and Saturday; 10 a.m.-8 p.m. on Thursdays; and 12-5 p.m. on Sundays. Reservations are strongly encouraged and can be made at www.figgeartmuseum.org or by calling 563-345-6632. Admission to the museum is $10 for adults, $6 for seniors and students with ID and $4 children ages 4- 12. Admission is free to Figge members and institutional members and to all on Thursday evenings. The Figge Café is open for lunch Tuesday-Friday 11 a.m.-2 p.m. To contact the museum, please call 563.326.7804, or visit www.figgeartmuseum.org.
-END-