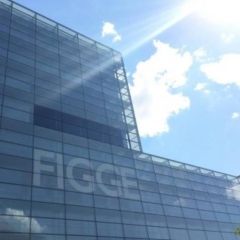 PRESS RELEASE
Steve Banks: Pop Culture Palimpest
June 4, 2018
---
The Figge Art Museum is presenting a comprehensive installation by Quad Cities artist Steve Banks. Opening Saturday, June 9 will be Steve Banks: Pop Culture Palimpsest.

Like an archaeologist digging through layers of pop culture ash, Banks uncovers iconic examples of high and low art which he then rearranges and re-covers in complex and entertaining constructions. According to Banks, his artwork is about finding meaningful identity and individuality within popular culture.

The exhibition is a visual mash-up of the familiar icons of art history and the TV Shows, comic books and movies of his youth. His constructions acknowledge the mass media's headlock-like influence on our tastes. Through his use of pungent color schemes and a distinct iconographic style, Banks creates a palimpsest of personal memories revealing through its layer of wry social commentary.

The exhibitions title, Pop Culture Palimpsest, refers to Medieval manuscripts in which one text or image is effaced and replaced by a new one, leaving a trace of the original and a record of layered information. Incorporating overlapping layers of painted, collaged and carved elements, Banks's constructions are the artist's attempt to assert his identity against the mass media's barrage on our senses.

As Banks has stated, our "search for identity often turns into commentaries about how we miraculously form meaningful…interpersonal relationships while our souls…bob haplessly on an isolating sea of cultural white noise."

The exhibition will be on view in the fourth-floor gallery through September 2.

Companion Programming:
Opening Reception & Artist Talk
Thursday, July 12
4 p.m. Happy Hour Menu & Cash Bar
5:30 p.m. Opening Reception
6:30 p.m. Artist Talk
Celebrate the exhibition and stay for a talk given by Artist Steve Banks about his completed exhibition.

Collection and Exhibition Tours
1:30 p.m. Saturdays: July 7, 14, 21, August 4, 11
1:30 p.m. Sundays: July 8, 15, 22, August 5, 12

Free Family Day
Saturday, August 4
Free Admission all day
Scheduled Activities 10 a.m.–1 p.m.

About the Figge Art Museum:
The Figge Art Museum is located on the Mississippi River in downtown Davenport at 225 West Second Street. Hours are from 10 a.m. to 5 p.m., Tuesday through Saturday and Sundays noon to 5 p.m. Thursdays the museum is open until 9 p.m. Admission to the museum and tour is $7 for adults, $6 for seniors and students with ID and $4 children ages 4-12. Admission is free to Figge members and institutional members, and free to all on Thursday evenings from 5 p.m. to 9 p.m. with a Happy Hour Menu starting at 4 p.m. each Thursday. The Figge Café is open 11 a.m.-2 p.m. Tuesday-Friday. To contact the museum, please call 563.326.7804, or visit www.figgeartmuseum.org.