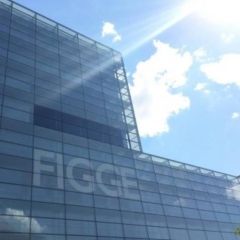 PRESS RELEASE
Smithsonian Exhibition Coming to the Figge Art Museum
October 4, 2021
---
Davenport, Iowa (October 4, 2021) –The life and work of Robert Blackburn (1920-2003), an influential Black artist, teacher and master printmaker, will be featured in a new Smithsonian exhibition opening Saturday, October 9 at the Figge Art Museum in Davenport, Iowa.

Robert Blackburn & Modern American Printmaking celebrates a key artist in the development of printmaking in the 20th century and the artistic community he created. Blackburn engaged with avant-garde ideas while promoting a new collaborative approach to the printmaking medium. His innovations in and mastery of printmaking helped define the aesthetic of the American graphics "boom."
The exhibition features more than 75 artworks, including lithographs, woodcuts and watercolors that trace Blackburn's artistic evolution from figurative work to highly colored abstraction, alongside the art of his contemporaries such as Grace Hartigan, Elizabeth Catlett, Romare Bearden and other iconic artists with whom Blackburn collaborated. Arranged chronologically, the exhibition begins with works created in the 1930s when Blackburn was a student, progresses to the period of vital experimentation at his workshop during the mid-20th century and extends through the 1990s and 2000s with prints created by a range of contemporary artists.
Robert Blackburn & Modern American Printmaking is organized by the Smithsonian Institution Traveling Exhibition Service and curated by Deborah Cullen-Morales, in cooperation with the Trust for Robert Blackburn and The Elizabeth Foundation for the Arts' Robert Blackburn Printmaking Workshop Program. This exhibition is supported by a grant from the Henry Luce Foundation and funding from the Smithsonian's Provost Office.
The son of Jamaican immigrants, Blackburn was raised in Harlem, New York, during the Harlem Renaissance — an unparalleled flourishing of the arts in New York City's creative Black community. In this atmosphere, the arts were considered crucial to the well-being of society as well as a fertile medium for activism. These values resonated with Blackburn throughout his life and work. In 1947, he founded a printmaking workshop as a welcoming space where artists of any level could learn and create together. At his workshop, Blackburn cultivated a democratic, diverse and creative community that influenced artists across the country and the world. It remains in operation today.
"The Figge is so excited to present this important exhibition to the community," said Figge Executive Director and CEO Michelle Hargrave. "Blackburn's work is beautiful and stunning, and this exhibition showcases his talents as a forward-thinking master printmaker, generous spirit, and long-lasting impact on the artworld. As a window into what great things can result from diverse and inclusive collaboration, it's also a timely show for the Figge, given the museum's commitment to championing equity in the Quad Cities today."
Curator Deborah Cullen-Morales hopes the exhibition will spur wider appreciation of the artist's own work, about which he was humble and private. In shedding light on his development as a printmaker, it not only showcases a range of artworks but also highlights his technical innovations that advanced the medium, for example his multi-stone color lithography. "Some of his innovations in color—it's hard for us to remember how difficult working in color and gaining access to a press was at the time," says Cullen-Morales. "I think it's been overlooked." The presentation at the Figge is made possible in part by a grant from the Smithsonian Institution Traveling Exhibition Service, Anna R. Cohn Fund.

Sponsored locally by Schafer Interiors, this exhibition will be on view through January 9, 2022. Companion Programming:
Virtual Curator Talk: Deborah Cullen-Morales
Thursday, October 28, 6:30 p.m.
Virtual Artist Talk: Curlee R. Holton
Thursday, November 5, 6:30 p.m.
Virtual Artist Talk: robin holder
Thursday, November 18, 6:30 p.m.
Virtual Family Day – Your Way!
Access begins Saturday, December 18
About SITES:
SITES (Smithsonian Institution Traveling Exhibition Service) has been sharing the wealth of Smithsonian collections and research programs with millions of people outside Washington, D.C., for more than 65 years. SITES connects Americans to their shared cultural heritage through a wide range of exhibitions about art, science and history, which are shown wherever people live, work and play. For more information, including exhibition descriptions and tour schedules, visit www.sites.si.edu.
The Henry Luce Foundation:
The Henry Luce Foundation seeks to enrich public discourse by promoting innovative scholarship, cultivating new leaders and fostering international understanding. The foundation's American Art Program, a leader in arts funding since 1982, supports museums, arts organizations and universities, in their efforts to advance the understanding and experience of American and Native American visual arts through research, exhibitions, collection projects and publications. For more information, visit www.hluce.org.
About the Figge Art Museum:
The Figge Art Museum is dedicated to bringing art and people together. Located on the Mississippi River in downtown Davenport at 225 West Second Street, the Figge is the premier art exhibition and education facility between Chicago and Des Moines. Its landmark glass building, designed by British architect David Chipperfield, is home to one of the Midwest's finest art collections and presents world-class exhibitions, art classes, lectures, and special events that attract visitors of all ages. Museum hours are 10 a.m.­­-5 p.m. Tuesday, Wednesday, Friday, and Saturday; 10 a.m.-8 p.m. on Thursdays; and 12-5 p.m. on Sundays. Reservations are not required, but can be made at www.figgeartmuseum.org or by calling 563-345-6632. Admission to the museum is $10 for adults, $6 for seniors and students with ID and $4 children ages 4-12. Admission is free to Figge members and institutional members and to all on Thursday evenings. You can become a member for as little as $50 by visiting the Figge website. The Figge Café is open for lunch Tuesday-Friday 11 a.m.-2 p.m. To contact the museum, please call 563.326.7804, or visit www.figgeartmuseum.org.
-END-