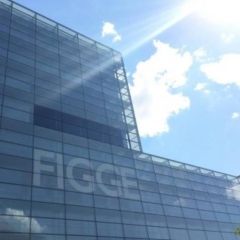 PRESS RELEASE
Site-specific Installation Opens at the Figge Saturday
June 15, 2021
---
Davenport, Iowa (June 15, 2021) – New York-based artist Franklin Evans has created a site-specific painting installation for the Figge Art Museum's first floor Gildehaus Gallery. The exhibition franklinsfootpaths opens on Saturday.
Evans explores how his own experiences are constructed through his relation to art history and how he works as an artist in the studio. His installation at the Figge franklinsfootpaths focuses on the time he spent in Iowa and the artwork he has encountered in this region.
"The Figge is fortunate to have artist Franklin Evans reflect on his own time in Iowa and create an art experience that connects with works in the Figge's collection and resonates with the community," said Figge Executive Director and CEO Michelle Hargrave.
Evans attended graduate school at the University of Iowa in the early 90s and returned as a visiting artist in 2007. A timeline of personal images from these two periods creates a path along the floor for visitors to follow. Evans also took inspiration from the artworks on view in the Figge, meticulously hand painting recreations of favorite works from the collection. The building's architecture is likewise transformed by Evans, who superimposes elements of his studio in New York onto the museum's walls. The resulting environment incorporates a wide range of materials and techniques, including painting, collage, sculpture, video, layers of artists' tape, and other raw materials.
"My obsessive re-creation of art that lives within my brain space presents to the viewer a preview of what resides within the museum and simultaneously my own expanding painting world," says Evans.
Within the installation, Evans pays homage to artists with a strong connection to Iowa, including Grant Wood, Phillip Guston, Ana Mendieta, and John Dilg as well as other standouts from the Figge collection such as Hector Hyppolite, John Bloom, and Doris Lee, among many others.
"The walls, floors, and ceilings of this exhibition are littered with imagery that will be familiar to frequent Figge visitors, creating a scavenger hunt of visual references that I think will change how visitors interact with the rest of the artworks on display during their visit," said the Figge's Joshua Johnson, the exhibition curator. "It allows us to see the museum and the region through Evans's eyes ."
In addition to his gallery installation, Evans has created a site-specific video which will be projected onto the Figge's 2nd Street façade every evening starting at 8:30 p.m. on xx until the exhibition closes.
franklinsfootpaths is on view through September 26, and the contributing level sponsor is Julianne Brown, PhD.
Companion Programs:
Opening Celebration: Franklin Evans (VIRTUAL)
Thursday, July 17, 6:30 p.m.
Franklin Evans will present a virtual guided tour of his installation from the first floor Gildehaus Gallery, while also showing his past works, the concepts explored in his environments, and his examinations of his history in Iowa. A zoom link will be emailed two hours before the scheduled program. Register at www.figgeartmuseum.org.
Franklin Evans in conversation with Laurel Farrin
Available at www.figgeartmuseum.org beginning July 22
Enjoy a pre-recorded video release of artist Franklin Evans speaking with fellow artists Laurel Farrin, as they discuss their creative process, materials, and humor in art.
Virtual Family Day – Your Way!
Access begins August 14
Join us for this family-flexible virtual enrichment experience focusing on artist Franklin Evans. Your free online registration grants your family two weeks of access to a virtual line-up, which means you can choose your day to play!
Virtual Studio Visit: Franklin Evans
Thursday, July 22, 6:30 p.m.
About the Figge Art Museum:
The Figge Art Museum is dedicated to bringing art and people together. Located on the Mississippi River in downtown Davenport at 225 West Second Street, the Figge is the premier art exhibition and education facility between Chicago and Des Moines. Its landmark glass building, designed by British architect David Chipperfield, is home to one of the Midwest's finest art collections and presents world-class exhibitions, art classes, lectures, and special events that attract visitors of all ages. Museum hours are 10 a.m.­­-5 p.m. Tuesday, Wednesday, Friday, and Saturday; 10 a.m.-8 p.m. on Thursdays; and 12-5 p.m. on Sundays.Reservations are strongly encouraged and can be made at www.figgeartmuseum.org or by calling 563-345-6632. Admission to the museum is $10 for adults, $6 for seniors and students with ID and $4 children ages 4-12. Admission is free to Figge members and institutional members and to all on Thursday evenings. The Figge Café is open for lunch Tuesday-Friday 11 a.m.-2 p.m. To contact the museum, please call 563.326.7804, or visit www.figgeartmuseum.org.
-END-