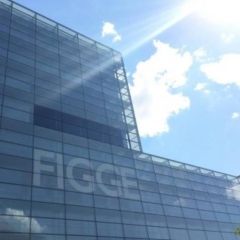 PRESS RELEASE
Seating by Design Opening Saturday, September 26 at the Figge Art Museum
September 22, 2020
---
PRESS RELEASE
FOR IMMEDIATE RELEASE
Seating by Design Opening Saturday, September 26 at the Figge Art Museum
Davenport, Iowa (September 22, 2020) – What does art, engineering, craftsmanship and seating have to do with one another? Beginning Saturday, September 26, Seating by Design, will open in the second-floor Katz Gallery at the Figge Art Museum and visitors will have the opportunity to find out.
Seating by Design, curated by University of Iowa School of Art and Art History Professor Monica Correia, features a range of innovative furniture designs created by former students of the University of Iowa's 3D Design MFA, MA, and BFA programs. Designs by the former Head of Design of the School of Art and Art History, Professor Hung-Shu Hu (1935-2015), and Professor Correia will also be on view.
This exhibition is for all ages and includes chairs, stools, soft-form seating and others. Each piece is sculpturally dynamic as well as functional, while overall the designs demonstrate the varied materials, contemporary technologies and formal solutions possible in the 3D design field.
More than 40 finished seating designs will be on display as well as 10 scale models that were used during the design process demonstrating early iterations. Visitors will gain added insight into the artistic process through sample design drawings and other related materials.
"Every design begins with a dream," said Exhibition Curator Monica Correia. "We are delighted and thankful to the Figge Art Museum for the opportunity to share almost two decades of dreams manifested into furniture pieces produced by former students from the University of Iowa 3D Design Program. We are honored to showcase our work in such a landmark structure together with many artworks that enrich our community through the experience of art and design."
Seating by Design is divided into 6 thematic sections: Play, Form, Layer, Combine, Assemble and Hop. Play features sculptural and formally playful works that push the boundaries of seating design. Form features materials like leather, metal and plastic that have been manipulated into seating forms. Layer includes designs created from layering and stacking materials. Combine features combinations of different materials and techniques, like bent metal, traditional upholstery, woodturning and CNC laser cutting, utilized to create cohesive designs. Assemble highlights works created using precise geometry, wherein the materials must fit together perfectly. And Hop includes a range of multi-functional stool designs.
The 3D design program emphasizes creativity among its students while developing the skills necessary for them to become successful professionals. The students practice and apply a variety of contemporary technologies including computer modeling, virtual reality, CNC (Computer Numerical Control), laser cutting, 3D printing and more.
"We are thrilled to feature these innovative and dynamic seating designs at the Figge Art Museum," said Assistant Curator Vanessa Sage. "Visitors will be amazed and intrigued by the variety of techniques, materials and the level of creativity on display in the exhibition. We are lucky to have a design program like this in Iowa, and privileged to have the opportunity to share these designs with the Quad-Cities community"
Seating by Design demonstrates the high level of sophistication taught in the University of Iowa 3D Design program — providing inspiration for students who wish to pursue careers in the design field. The exhibition will be on view through January 17, 2021. Don't sit this one out, stop into the museum today to view these one-of-a-kind pieces.
Companion Programming:
Curator Talk: Monica Correia
6:30 p.m. Thursday, October 8, 2020
Curator Monica Correia will discuss the 3D Design Program and some of the work featured in the exhibition.
Panel Discussion
6:30 p.m. Thursday, November 5, 2020
Join us for a panel discussion with designers at different stages in their careers to discuss changes in the field.
About the Figge Art Museum:
The Figge Art Museum is dedicated to bringing art and people together. Located on the Mississippi River in downtown Davenport at 225 West Second Street, the Figge is the premier art exhibition and education facility between Chicago and Des Moines. Its landmark glass building, designed by British architect David Chipperfield, is home to one of the Midwest's finest art collections and hosts world-class traveling exhibitions, art classes, lectures, and special events that attract visitors of all ages. Museum hours are 10 a.m.­­-5 p.m. Tuesday, Wednesday, Friday, and Saturday; 10 a.m.-8 p.m. on Thursdays; and 12-5 p.m. on Sundays. Reservations are strongly encouraged and can be made at www.figgeartmuseum.org or by calling 563-345-6632. Reservation times are available at 10 a.m., 12:30 p.m. or 3 p.m. on Tuesday-Saturday; Thursdays there is also a 5:30 p.m. slot available for all. The 10 a.m. reservation period Tuesday-Friday will be reserved for those who are high-risk visitors. Admission to the museum is $10 for adults, $6 for seniors and students with ID and $4 children ages 4- 12. Admission is free to Figge members and institutional members and to all on Thursday evenings. The Figge Café is open for lunch 11 a.m.-2 p.m. Tuesday-Saturday. To contact the museum, please call 563.326.7804, or visit www.figgeartmuseum.org.
–END–