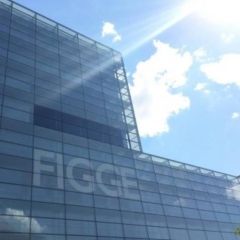 PRESS RELEASE
Robert Lipnick: Mountains, Faces, Stories, and Stacks Opening Saturday at the Figge Art Museum
August 13, 2020
---
PRESS RELEASE
FOR IMMEDIATE RELEASE
Robert Lipnick: Mountains, Faces, Stories, and Stacks Opening Saturday at the Figge Art Museum
Davenport, Iowa (August 12, 2020) – The Figge Art Museum is not only celebrating its 15th anniversary through August 21, but a new exhibition will open to the public on Saturday in the second-floor Lewis Gallery.
Robert Lipnick: Mountains, Faces, Stories, and Stacks, sponsored by the Jewish Federation of the Quad Cities and Schafer Interiors, features the work of local artist Robert Lipnick who has developed a unique system of iconography throughout his artistic career. The symbols in his ceramics link his work to Jewish tradition, popular culture, and his personal experience. Lipnick is best known for his ceramic Judaica series. These works incorporate religious and secular imagery on their surfaces, including the tablets of the Ten Commandments, the Temple, and Noah's Ark. These symbols are painted in glaze on ceremonial objects; Seder plates, menorahs and spice boxes. These objects are not only visually interesting sculpture, but functional objects used in the ritual ceremonies of the Jewish faith."
Not all of the symbols that Lipnick uses are immediately definable, for instance of his use of the triangle Lipnick says, "The triangular form you see in this exhibit is one that has been a constant in my work. It is my archetypal image. Is it a mountain, a tablet, a wave, a corner of a star, a roof, a design element or all of these. These associations: natural, literary, spiritual and secular are what interest me."
Mountains, Faces, Stories, and Stacks features a never before exhibited body of large ceramic abstractions in a site-specific configuration. Lipnick's most recent body of work challenges the viewer to discern meaning from their emblematic forms. These works, alongside Lipnick's more familiar ceramic series, provides insight into his artistic practice.
Lipnick earned his Bachelor of Science degree from the University of Maryland and a Masters of Fine Arts from the University of Notre Dame. He is a widely respected educator in the Quad Cities region having taught at Scott Community College, Clinton Community College, Marycrest College, and others. In addition to previous exhibits at the Figge, Lipnick has had his pieces displayed at venues including the Minneapolis Art Institute and the Jewish Museum in New York City.
Lipnick, along with some other area ceramic artists, will be part of a virtual artist panel at 6:30 p.m. on Thursday, August 27. This event is free, but registration is required. Visit www.figgeartmuseum.org to register.
Robert Lipnick: Mountains, Faces, Stories, and Stacks, will be on view through November 8. Visitors to the Figge are invited to take advantage of free museum admission now through August 21 in celebration of the 15th anniversary of the Figge. Visit www.figgeartmuseum.org for more information on events, the online auction, match challenge and more.
About the Figge Art Museum:
The Figge Art Museum is dedicated to bringing art and people together. Located on the Mississippi River in downtown Davenport at 225 West Second Street, the Figge is the premier art exhibition and education facility between Chicago and Des Moines. Its landmark glass building, designed by British architect David Chipperfield, is home to one of the Midwest's finest art collections and hosts world-class traveling exhibitions, art classes, lectures, and special events that attract visitors of all ages. Museum hours are 10 a.m.­­-5 p.m. Tuesday, Wednesday, Friday, and Saturday; 10 a.m.-8 p.m. on Thursdays; and 12-5 p.m. on Sundays. Reservations are strongly encouraged and can be made at www.figgeartmuseum.org or by calling 563-345-6632. Reservation times are available at 10 a.m., 12:30 p.m. or 3 p.m. on Tuesday-Saturday; Thursdays there is also a 5:30 p.m. slot available for all. The 10 a.m. reservation period Tuesday-Friday will be reserved for those who are high-risk visitors. Admission to the museum is $10 for adults, $6 for seniors and students with ID and $4 children ages 4- 12. Admission is free to Figge members and institutional members and to all on Thursday evenings and FREE TO ALL August 6-21. To contact the museum, please call 563.326.7804, or visit www.figgeartmuseum.org.
–END–