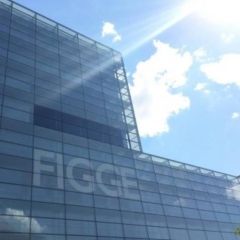 News
Railroad Photography Rolls into the Figge
January 29, 2011
---
Tracks: The Railroad in Photographs from the George Eastman House Collection makes its way to the Figge Art Museum, Davenport, on January 15th, 2011. Organized by the George Eastman House, Tracks covers 160 years of railroad history in photography. Both the railway and photography developed concurrently at the beginning of the 19th century and shared similar impressions on people's view of previously unseen landscapes. These inventions permitted, for the first time, a person's ability to be transported, both visually and physically, to worlds they had only previously imagined. Both forever changed the way the world was perceived.
Tracks offers the opportunity to learn about the history of the railroad and to visualize its impact on our country's development. The exhibition contains some of the earliest photographs of trains and railway scenes up through the end of the 20th century. In this survey of railroad images from around the world, trains appear as potent emblems of the modern industrial age and as crucial role players in transformation of the social and physical landscape. Included is the work of legendary photographers: Bisson Frères, Aaron Siskind, Henri Cartier-Bresson, and William Henry Jackson.

Tracks will be accompanied by a companion exhibition of photographic prints in a separate gallery that will explore the history and significance of the railway in the Quad Cities area. Crossing the Mississippi: The Quad Cities, the Railroad and Art includes works on loan from the Rock Island Arsenal Museum, the Richardson-Sloane Special Collections Center of the Davenport Public Library and the Putnam Museum.
Both exhibitions are sure to please a variety of audiences; including history buffs, lovers of the American West, but especially photography and rail enthusiasts.
Guided group tours are available for the exhibition as well as full museum tours to enhance your visit. Contact the Figge Art Museum at 563.326.7804 or visit online at figgeart.org for more information.
Tracks is funded, in part, by the Riverboat Development Authority and the Iowa Arts Council.