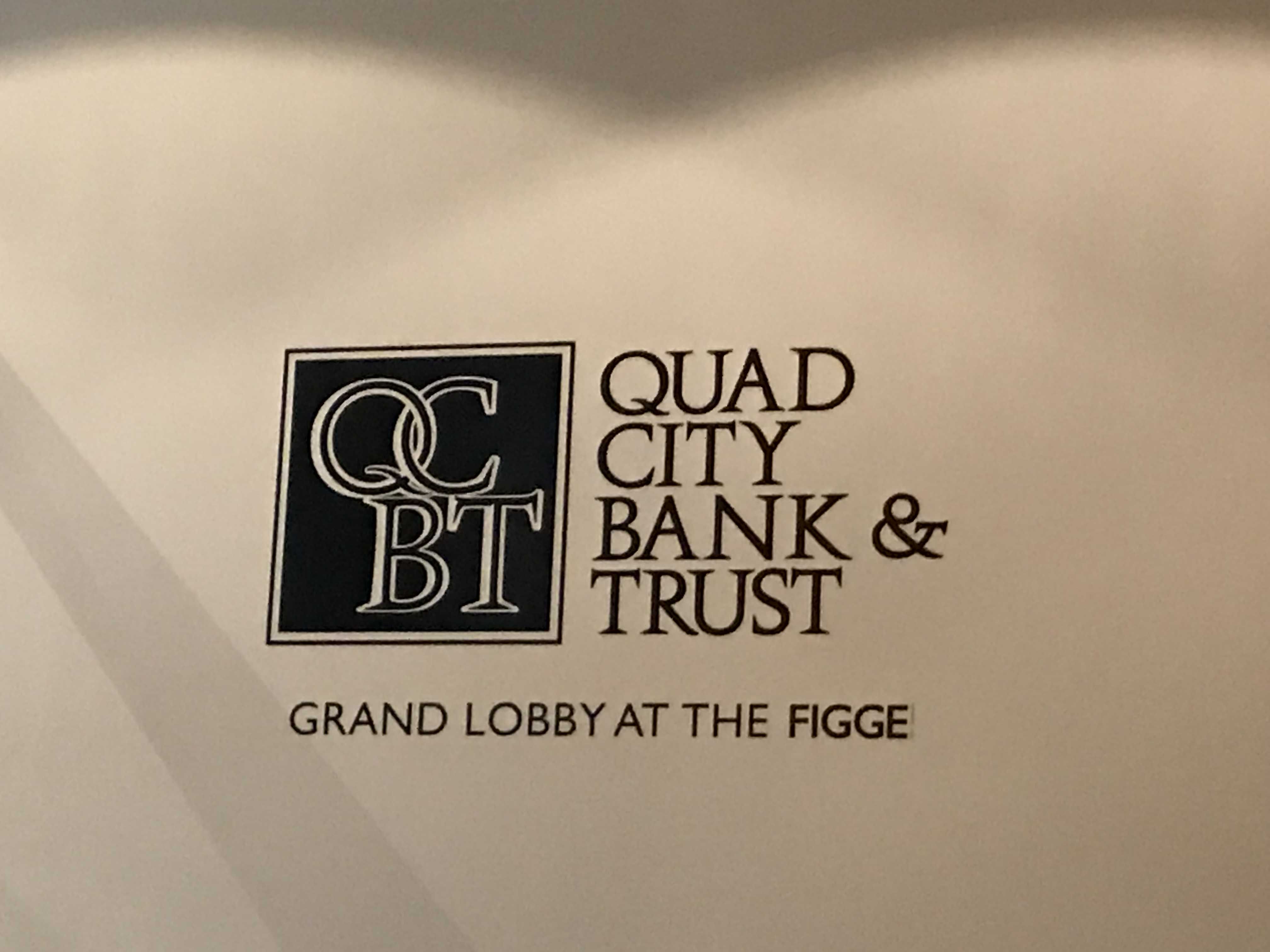 PRESS RELEASE
Quad City Bank & Trust Grand Lobby Debuts at the Figge Art Museum
October 16, 2018
---
Davenport, Iowa (October 16, 2018) – The Figge Art Museum's Grand Lobby has been renamed the Quad City Bank & Trust Grand Lobby thanks to a generous gift from Quad City Bank & Trust.

"To have a Quad City Bank & Trust Grand Lobby is very special," says Figge Executive Director Tim Schiffer. "They understand the importance of this museum in our community and are giving back to help us continue to bring art and people together – it's very exciting."
As the museum continues to grow, the Grand Lobby has become a gathering place not only for museum events, but also for local organizations and residents who rent the space out for their own events. Thousands of people enter through the Grand Lobby each year to visit the museum or attend a curator talk, performance, lecture, wedding, gala or other special event. The space is unlike any other in the Quad Cities, with stunning views of the Mississippi River and beautiful artwork on the walls.
"The Grand Lobby represents everything worth celebrating in our community," says Quad City Bank & Trust President and CEO, John Anderson. "Our bank was founded on the idea that people and relationships matter, so we are proud to partner with the Figge to welcome, inspire and engage with our neighbors and visitors from all over the world.
Quad City Bank & Trust will have naming rights to the Grand Lobby space until 2028 as part of the agreement between the bank and the Figge Art Museum. "As a valued partner, it is exciting their name will be associated with the museum for many years," says Figge Director of Development Raelene Pullen.

About the Figge Art Museum:
The Figge Art Museum is located on the Mississippi River in downtown Davenport at 225 West Second Street. Hours are from 10 a.m. to 5 p.m., Tuesday through Saturday and Sundays noon to 5 p.m. Thursdays the museum is open until 9 p.m. Admission to the museum and tour is $7 for adults, $6 for seniors and students with ID and $4 children ages 4-12. Admission is free to Figge members and institutional members, and free to all on Thursday evenings from 5 p.m. to 9 p.m. The Figge Café is open 11 a.m.-2 p.m. Tuesday-Friday. To contact the museum, please call 563.326.7804, or visit www.figgeartmuseum.org.
About Quad City Bank & Trust:
The mission of Quad City Bank & Trust is to be the most customer-focused financial institution in the Quad Cities. Quad City Bank & Trust is a local bank with over $1.3 billion in assets and is headquartered in Bettendorf, IA. The bank employs 150 individuals in five Quad City-area locations, providing full service commercial and consumer banking, trust and asset management services. For more information, visit www.qcbt.com.

–END–