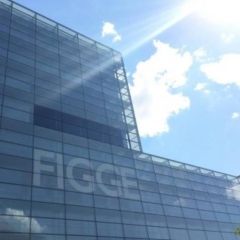 PRESS RELEASE
Mia Feuer: Totems of Anthropocene Opening Saturday at the Figge Art Museum
October 3, 2019
---
Figge Art Museum
225 West Second Street
Davenport, IA 52801
t 563.326.7804
www.figgeartmuseum.org
Contact: Natalie Dunlop,
Marketing & Communications
t 563.345.6651
ndunlop@figgeartmuseum.org
PRESS RELEASE
FOR IMMEDIATE RELEASE
Mia Feuer: Totems of the Anthropocene Opening Saturday at the Figge Art Museum
Davenport, Iowa (September 16, 2019) –Mia Feuer: Totems of the Anthropocene by Artist Mia Feuer will be on view in the fourth-floor gallery beginning Saturday.
Mia Feuer: Totems of the Anthropocene envisions what our environment might become after prolonged exposure to petroleum, a fossil fuel that lives beneath the earth's surface. From the packaging of the foods we eat to our daily commute, petroleum is a pervasive presence in our lives and the landscape in which we live. Feuer's work delves into the consequences of mining petroleum from an environmental, social and political perspective.
The exhibition includes several site-specific installations that question our exploitation of the environment, including a synthetic ice rink on which one museum visitor at a time may skate under a vortex of ravens and uprooted trees. The ravens and trees reference the environmental realities facing the Alberta tar sands and the decline of winter pond skating in Feuer's native Canada. The ponds on which many Canadians first learn to skate are disappearing as global temperatures continue to rise. The sensation of skating in this desolate landscape hints at the desolate future we may be facing.
The sculptures included in the exhibition are made from petroleum bi-products including polyurethane foam, resins and adhesive. Feuer's use of these materials demonstrate the ubiquity of petroleum as well as it's inescapability.
Mia Feuer: Totems of the Anthropocene is presented in partnership with the Center for Polar Studies at Augustana College and Davenport Parks and Recreation and will be on view through December 29.
Companion Programming:
Artist Talk: Mia Feuer
Thursday, September 19
4 p.m. Happy hour menu / Cash bar
6:30 p.m. Talk
Artist Mia Feuer will introduce her exhibition and discuss her philosophical approach to artmaking.
Collection and Exhibition Highlights Tours
1:30 p.m. Saturday, September 28, October 12, 26, November 9 and December 7, 14
1:30 p.m. Sunday, September 22, October 6, 20, November 3, 17 and December 1


Members only tours 1:30 p.m. Friday, December 6, Sunday, December 8 and Tuesday, December 10
Scholar Talk: Dr. Grant Deane
Thursday, October 3
4 p.m. Happy hour menu / Cash bar
6:30 p.m. Talk
Dr. Grant Deane is an oceanographer who worked to record, isolate and incorporate the sounds of melting ice and calving glaciers in the Mia Feuer exhibition.
Activist Talk
Thursday, November 7
4 p.m. Happy hour menu / Cash bar
6:30 p.m. Talk
Donald and Theresa Daradar of the Pointeau-Chien Native American tribe of Louisiana will discuss their tribe's ongoing efforts to combat the effects of global warming that threaten their tribe's land. Their ongoing struggle inspired artist Mia Feuer to create Mesh, one of her installations in the exhibition.
Free Family Day
10 a.m.-1 p.m. Saturday, November 23
Admission is free all day. Radar, the mascot from the Quad City Storm, will be making an appearance!
Sponsored by Quad-City Times and Wells Fargo
About the Figge Art Museum:
The Figge Art Museum is located on the Mississippi River in downtown Davenport at 225 West Second Street. Hours are from 10 a.m. to 5 p.m., Tuesday through Saturday and Sunday from noon to 5 p.m. Thursdays the museum is open until 9 p.m. Admission to the museum and tour is $10 for adults, $6 for seniors and students with ID and $4 children ages 4-12. Admission is free to Figge members and institutional members, and always free to all on Thursday evenings from 5 p.m. to 9 p.m. The Figge Café is open 11 a.m.-2 p.m. Tuesday-Friday. To contact the museum, please call 563.326.7804, or visit www.figgeartmuseum.org.
–END–