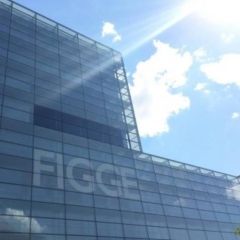 News
Making Artistic Dreams Come to Life
August 10, 2010
---
By Jonathan Turner as published in The Dispatch and The Rock Island Argus

Lillian L. Brand of Davenport never married and never had children. But a scholarship program she started -- named for a nephew who died young -- has helped 44 teen art students pursue their dreams.

A Figge Art Museum exhibit of 11 past recipients of the 10-year-old Brand Boeshaar Scholarshipin the Mary Waterman Gildehaus Community Gallery honors Ms. Brand's philanthropic support of art education and highlights the success of these young artists.

"It's interesting to see their career paths," said Ann Marie Hayes-Hawkinson, the Figge's education curator, who manages the scholarship. "Just an exhibit like this shows kids they can have a career in art," she said, noting this is the largest art scholarship in the area, and Iowa.

Graduating high school seniors can receive up to $12,000 for art studies in college (not art history or photojournalism). Each year, about 20 local students apply for four scholarships. Each award is $3,000 for the first academic year and may be renewed for three subsequent years, contingent on continued scholastic achievement.

For Rock Island native Lizzy Martinez, the scholarship made it possible for her to attend a private art school rather than a state university.

"The Brand Boeshaar Scholarship was essential in making my attendance at the Minneapolis College of Art & Design financially feasible; there I underwent a rigorous four-year concentration in fine arts, as opposed to a state college where I would have only received two years at the very most in my specific area of study," she said by e-mail.

After graduating from MCAD in 2006, she earned a master in fine arts degree in painting at Boston College. Today, she teaches design and drawing at St. Louis Community College, and works on her career as a painter.

The museum exhibit includes art from past recipients, and short biographies and comments about the impact of the scholarship.

Jess Lowenberg, a 2002 recipient and Bettendorf High graduate, is a graphic design specialist for the Minnesota Vikings, in charge of team sales and marketing material, photography, and in-stadium graphics.

He wrote that the scholarship helped him land his job. "Without the scholarship, I may not have been fortunate enough to be considered for a position with the Minnesota Vikings," he said.

"Without the scholarship, I may have chosen a different major and career path, even though art and design has always been my number-one passion."

Andy Flick, a 2001 recipient and Bettendorf native, wrote that the scholarship was and continues to be "instrumental in my life." He is founder and owner of living ABODE, a San Anselmo, Calif., design-build firm, and got his degree in industrial design from the prestigious Rhode Island School of Design.

"How important was the Brand Boeshaar Scholarship? It helped me get to where I am now, and I am forever thankful."

The importance of saving and giving back

Lillian Brand -- who died March 27, 1999 at the age of 95 -- was a child of the Depression, who saved every penny, her Davenport attorney, David Dettmann, said. She worked as an executive secretary for the Dewey Portland Cement Company for many years.

"I met Lillian when she was 75. I would take her out to lunch a few times a year, and her arm would get caught in the lining of her sleeve -- she didn't want a new coat," Mr. Dettmann said. "She lived on her Social Security check, and let her money sit there and grow."

Ms. Brand shared a home in Davenport with her sisters, Isabelle Brand and Lucille Brand Boeshaar, and Lucille's son William Brand Boeshaar.

William, an art student at St. Ambrose, died of Crohn's disease, and Ms. Brand had no other nieces or nephews, Mr. Dettmann said. "She wanted to advance art education in honor of her nephew."

Ms. Brand left nearly $2.1 million to her foundation, which is administered through the Community Foundation of the Great River Bend.

Graduating high school seniors in eastern Iowa and western Illinois are eligible to apply, and recipients may use the funds for any accredited college art program. Three local college art professors make the decision.

"I would like there to be greater awareness. I would think there would be more applicants," Ms. Hayes-Hawkinson said. "That's a reason we're doing this exhibit."

Ms. Hayes-Hawkinson cited Felicia Feldman of New York City, a Moline High grad.

Ms. Feldman, a 2003 recipient, has sold her paintings to actress Jennifer Connelly, arts patron Eileen Guggenheim, and at Sotheby's Auction House in New York City.

Caleb Spiegel, who graduated this spring from Moline High School and plans to study art at Iowa State University this fall with the goal of becoming an architect, is one of four new scholarship winners.

"It was really exciting to see that art can take you to these nice big, high-paying, exciting jobs around the world," he said.

The Figge exhibit runs through Aug. 15.