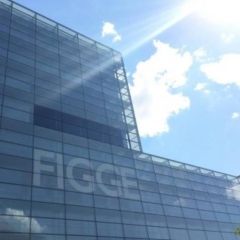 PRESS RELEASE
Jane Gilmor: Breakfast on Pluto Now Open at the Figge Art Museum
October 11, 2021
---
Davenport, Iowa (Monday, October 11, 2021) – Cedar Rapids, Iowa–based artist Jane Gilmor is known for her extensive body of work engaging with social and cultural issues including gender stereotypes, social inequities and immigration. With the community and the nation participating in challenging conversations around these issues, Gilmor's latest exhibition, Breakfast on Pluto, now on view at the Figge Art Museum, uses art to provoke new perspectives and deeper reflection among viewers.

"For over five decades, Jane Gilmor has explored, poked and prodded the human condition with enthusiasm and humor," said Figge Assistant Curator Vanessa Sage. "In Breakfast on Pluto, she engages with important issues like the pandemic and social inequities and gives our community the chance to laugh, connect, contemplate and heal at a time when it is especially vital to do so."
In Breakfast on Pluto, Gilmor uses found materials and repurposed art "mined" from the recesses of her studio to create sculptures with layers of personal and cultural meaning. Activated with motion and light, they encourage visitors to contemplate current events, like the pandemic, and the interplay between light and darkness, the familiar and the strange, and the past and the present in their own lives.
While creating works for the exhibition, Gilmor was influenced by contemporary events including the pandemic, political unrest and climate change. One example of their effect on the work is the Covid-like spiked forms present throughout the installation. Gilmor brings her sense of humor to the forefront in her work — especially fitting when examining the absurdity and strangeness of life in this moment.
From her early work during the Women's Art Movement of the 1970s to recent sculptures referencing current issues, Jane Gilmor continues to challenge us," said Figge Executive Director and CEO Michelle Hargrave. "Her work grants us the chance to reflect on our own life experiences through the pieces on view."
While Gilmor weaves stories by bringing found and fabricated objects together, the stories that visitors make for themselves when viewing the works may be the most intriguing. Perhaps the sculpture Breakfast on Pluto evokes a classic sci-fi robot made from spare parts. Or the migration stories covering A Semester at Sea might prompt contemplation of the difficult journey of refugees the world over. Throughout the exhibition, Gilmor's sculptures compel her viewers to examine each artistic element and in turn to examine themselves.
For over 50 years Gilmor has worked in a variety of mediums, ranging from performance pieces to site-specific installations. In these works, Gilmor questions how we define ourselves through objects and language. Her concern with social issues, material culture and storytelling are essential to the creation of her artwork. In the sculptures on view in Breakfast on Pluto, she combines everyday materials in unusual ways, prompting visitors to explore the works in search of meaning. Of the sculptures, Gilmor states: "The electricity is still on. Yes, there must be life! But things seem to be slowly falling apart... it is difficult to know if these are ruins or works in progress."
Jane Gilmor: Breakfast on Pluto is sponsored by Caroline Kimple and The Current Iowa, the Autograph Collection and will be on view in the Katz Gallery through February 6, 2022.
Companion Programs:
Artist Talk: Jane Gilmor
Thursday, October 14, 6:30 p.m.
Join artist Jane Gilmor as she discusses her varied body of work and the installation Breakfast on Pluto, Space is limited for this event and registration is required. A virtual option is also available at www.figgeartmuseum.org.
Virtual Family Day – Your Way!
Access begins Saturday, November 20
Join us for this family-flexible virtual enrichment experience. Your free online registration grants your family two weeks of access to a virtual line-up related to artist Jane Gilmor, which means you can choose your day to play!. Sponsored by: Baird
About Jane Gilmor:
Gilmor has exhibited nationally and internationally for decades and has been affiliated with the A.I.R. Gallery in New York (the first all-female artists cooperative gallery in the U.S.) since 1985 and is recognized for bringing attention to disadvantaged communities through her work. Gilmor attended The School of The Art Institute of Chicago and The University of Iowa. She is an Emerita Professor of Art at Mount Mercy University in Cedar Rapids where she taught from 1974 -2012. Gilmor has received NEA Visual Artist's Fellowships and Project Grants, a McKnight Interdisciplinary Fellowship, and residency fellowships in Ireland, Italy, London, and at The McDowell Colony, among many other honors.
About the Figge Art Museum:
The Figge Art Museum is dedicated to bringing art and people together. Located on the Mississippi River in downtown Davenport at 225 West Second Street, the Figge is the premier art exhibition and education facility between Chicago and Des Moines. Its landmark glass building, designed by British architect David Chipperfield, is home to one of the Midwest's finest art collections and presents world-class exhibitions, art classes, lectures, and special events that attract visitors of all ages. Museum hours are 10 a.m.­­-5 p.m. Tuesday, Wednesday, Friday, and Saturday; 10 a.m.-8 p.m. on Thursdays; and 12-5 p.m. on Sundays. Reservations are not required, but can be made at www.figgeartmuseum.org or by calling 563-345-6632. Admission to the museum is $10 for adults, $6 for seniors and students with ID and $4 children ages 4-12. Admission is free to Figge members and institutional members and to all on Thursday evenings. You can become a member for as little as $50 by visiting the Figge website. To contact the museum, please call 563.326.7804, or visit www.figgeartmuseum.org.
-END-