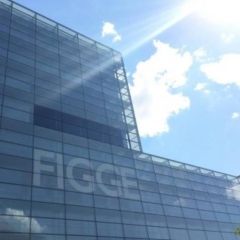 News
Innovative Designs by Iowa State University Student Architects on Display at the Figge
August 1, 2011
---
Davenport, Iowa - August 2011 – Architecture students in Iowa State University's College of Design created designs for the construction of a fictional museum in Columbus, Indiana's already architecturally diverse community and a selection of those designs will be on view at the Figge Art Museum starting September 3 in the exhibition, Innovative Objects of Design: Museum Proposals for Columbus, Indiana. The student exhibition was preempted by a tour of the Figge last fall as part of a senior design course. Students were asked to design architecture based on several factors: creating an environment that goes beyond the traditional museum structure and one that has the ability to both stand out and blend in to a community that is already known for its architecture. Of the 75 proposed designs, only ten were chosen for display at the Figge.

The exhibition will be on display in the Mary Waterman Gildehaus Community Gallery from September 3 until October 23. An exhibition reception is scheduled from 2-4 pm Saturday, September 24. At 2 pm, Rod Kruse, FAIA, LEED AP, Principal at BNIM Architects, will give a talk entitled, "Design Reflections." A second talk, "Eponymous Exhibition: Developing Innovative Objects of Design," will be presented by Rob Whitehead, AIA, LEEP AP, Principal at Whitehead Design Workshop and lecturer at Iowa State University Department of Architecture, and curator of Innovative Objects of Design. The two short talks will last about an hour, and will be followed by a reception.

With its strong commitment to art and design education, the Figge is committed to exhibiting the highest quality student work by area students in the Mary Waterman Gildehaus Community Gallery. Innovative Objects of Design was sponsored by Iowa State University, College of Design, and selected Department of Architecture students. All exhibitions in the Mary Waterman Gildehaus Community Gallery are sponsored by the Brand Boeshaar Foundation Fund.

Figge admission is $7. Admission to the talks and reception is free to Iowa State University students and alumni and their guests.

The Figge Art Museum is located on the riverfront in Downtown Davenport at 225 West Second Street. Hours are from 10 am to 5 pm, Tuesday through Saturday, Sundays noon to 5pm and Thursdays 10 am to 9pm. To contact the museum, please call 563.326.7804, or visit www.figgeartmuseum.org.