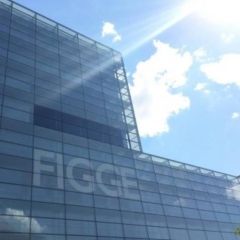 PRESS RELEASE
Give Back this Holiday Season During Museum Store Sunday at the Figge
November 17, 2022
---
Davenport, Iowa (Sunday, November 27, 2022) – The Figge Art Museum Store will be participating in Museum Store Sunday on Sunday, November 27 from noon-5 p.m. The Figge is just one of the over 1800 stores across the globe to participate in this annual shopping event that gives back.

Stop by on Sunday to shop for unique, one-of-a-kind gifts for anyone on your holiday list. Find handmade jewelry, art-inspired gloves, works by local artists, books, puzzles, and more! "There are so many distinctive, meaningful items in the Figge's Museum Store for all ages that can be wrapped and ready to be gifted the same day," said Museum Store Manager Beth Peters. "It's a one-stop shop to make your shopping experience hassle-free."
No museum admission is required to shop in the store. Museum Store Sunday shoppers will receive a 10% discount; no additional discounts, excludes consignments and sale items; and shoppers who spend $50 or more will be entered into a drawing to receive a free Figge membership. All purchases are tax free; and free gift wrapping is available.
Museum Store revenues support the museum's mission of bringing art and people together by providing important funding. Join in the fun and Be A Patron. For a complete list of participating museums and institutions, and for more information, visit www.museumstoresunday.org.
About the Figge Art Museum:
The Figge Art Museum is dedicated to bringing art and people together. Located on the Mississippi River in downtown Davenport at 225 West Second Street, the Figge is the premier art exhibition and education facility between Chicago and Des Moines. Its landmark glass building, designed by British architect David Chipperfield, is home to one of the Midwest's finest art collections and presents world-class exhibitions, art classes, lectures, and special events that attract visitors of all ages. Museum hours are 10 a.m.­­-5 p.m. Tuesday, Wednesday, Friday, and Saturday; 10 a.m.-8 p.m. on Thursdays; and 12-5 p.m. on Sundays. Reservations are not required, but can be made at www.figgeartmuseum.org or by calling 563-345-6632. Admission to the museum is $10 for adults, $6 for seniors and students with ID and $4 children ages 4-12. Admission is free to Figge members and institutional members and to all on Thursday evenings. You can become a member for as little as $50 by visiting the Figge website. To contact the museum, please call 563.326.7804, or visit www.figgeartmuseum.org.
–END–