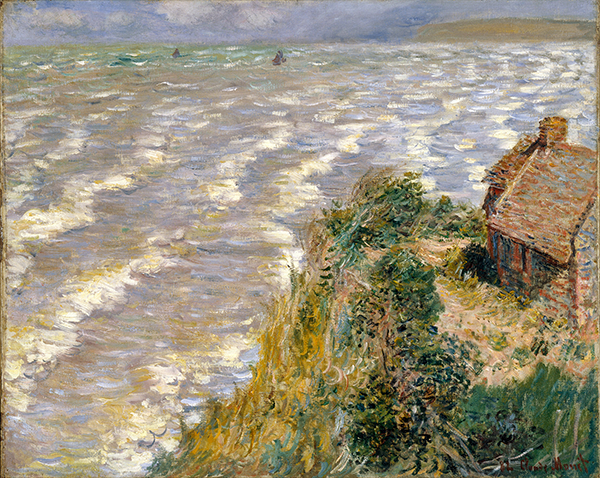 PRESS RELEASE
French Moderns: Monet to Matisse, 1850-1950 Opening October 9 at the Figge Art Museum
September 26, 2018
---
Davenport, Iowa (September 26, 2018) – The Quad Cities is gearing up to be the Paris of the Midwest this fall as the Figge Art Museum welcomes the exhibition: French Moderns: Monet to Matisse, 1850-1950 from the world-renowned collection of the Brooklyn Museum in New York. The exhibition, organized by the Brooklyn Museum, brings together 60 paintings and sculptures by some of the world's most treasured artists including Monet, Cézanne, Renoir, Matisse, Degas, Rodin and many more. Members of the Figge Art Museum will be allowed access to the exhibition during a special member preview weekend on October 6-7 and the exhibition will open to the public beginning October 9.
French Moderns: Monet to Matisse, 1850-1950 tells the story of one of the most exciting centuries in the history of art, when artists turned from the academic art tradition to focus on subjects from everyday life, portrayed with vivid colors and bold brushstrokes. It begins with the academic painters of the 19th century, such as Gérôme and Bouguereau, then moves on to artists who turned to nature for their inspiration, such as Corot, Millet and Boudin, paving the way for the experiments of the Impressionists. It features works by the leading Impressionists and their colleagues, such as Morisot, Sisley and Caillebotte, as well as artists from England, Italy and Germany who aligned themselves with the movement. Also included are iconic sculptural works by Auguste Rodin and Edgar Degas.
The Impressionists ushered in a period of tremendous innovation in the visual arts. Matisse, Bonnard, Chagall, Léger and Dufy pioneered new bold approaches to image-making, as did artists from elsewhere in Europe, such as Gabrielle Munter and Chaim Soutine, all included in the exhibition.
The Figge is offering a variety of programs related to the exhibition including lectures, curator talks, films, exhibition tours, free family day, French culture classes, French wine tastings, tours and more. For complete details, visit www.figgeartmuseum.org.
French Moderns: Monet to Matisse, 1850-1950 will be the centerpiece of a community-wide celebration of all things French in the Quad Cities, with special programs presented by artsBASICS, Augustana Teaching Museum of Art, Augustana College, Ballet Quad Cities, Bereskin Fine Art Gallery and Studio, Bettendorf Public Library, Butterworth Center & Deere-Wiman House, Creative Arts Academy, Davenport Public Library, Davenport Schools, Family Museum, German American Heritage Center, Isabel Bloom, Jewish Federation of the Quad Cities, KWQC-TV6, Living Proof Exhibit, Moline Public Library, Muscatine Art Center, Palmer College of Chiropractic, Paragon Commercial interiors, Putnam Museum, Quad City Arts, Quad City Botanical Center, Quad Cities CVB, Quad City Symphony Orchestra, Quad-City Times, Quad-City Times Bix 7, Ragbrai, River Music Experience, Robert Jones Library, Rock Island Public Library, St. Ambrose University Catich and Morrissey Galleries, St. Ambrose University, The Current Iowa, Tri-City Garden Club, Western Illinois University-Quad Cities and WQPT-TV. A full color 28-page booklet is available online at www.figgeartmuseum.org with complete listings.
Partner programs include special classes, talks and reading groups about the period to special French-inspired menus, wine tastings, movies and performances that will make this a "French Fall" in the Quad Cities.
"This is one of the most exciting exhibitions in the museum's history," said Figge Executive Director Tim Schiffer. "With the support of our generous donors and sponsors and the enthusiastic participation of dozens of organizations across the Quad Cities, this fall is truly going to be a celebration of all things French in the Quad Cities."
This is the first major exhibition supported by the newly created Major Exhibitions Endowment that will allow the museum to bring in world-class art exhibitions every other year in perpetuity.
"The Figge is buzzing with excitement," said Director of Development Raelene Pullen. "So many people came together for a common cause to make it possible for us to bring French Moderns to our community and it is almost here! We are beyond thrilled and humbled by the outpouring of support from donors, sponsors and community partners."
French Moderns: Monet to Matisse, 1850–1950 is organized by Rich Aste, former Curator of European Art, and Lisa Small, Senior Curator European Art, Brooklyn Museum. A fully illustrated catalogue accompanies the exhibition and will be available for purchase in the Figge Museum Store along with other French-inspired items.
The exhibition will be on view through January 6, 2019 and is sponsored by the Hunt and Diane Harris Family Foundation, Genesis Health System, Arconic Foundation, John Deere Foundation, Twin Shores, BITCO Insurance Companies, Mark and Rita Bawden, Debby and Hugh Stafford, Kay and John Hall, Cynthia Carlson and Scott and Raelene Pullen. Program Sponsor is US Bank and Media Sponsors include Quad-City Times, KWQC-TV6 and WQPT Quad Cities PBS. Hospitality sponsors are Hotel Blackhawk and The Current Iowa.