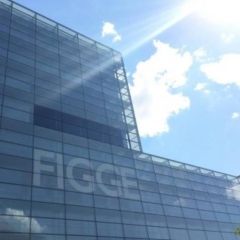 PRESS RELEASE
Free Admission at the Figge July 6–August 11, 2019 and Local Artist's Work to be Featured in the Lewis Gallery
July 18, 2019
---
Davenport, Iowa (June 27, 2019) – For the fifth summer in a row, the Figge Art Museum will offer a period of free admission thanks to the generous support of the John Deere Classic and Bechtel Trusts. This summer's dates are July 6–August 11.
The Figge will have a variety of special programs during the free admission period including: Big Picture; In the House geared for all young art enthusiasts ages 5-12 taking place every Wednesday starting July 10 through August 7; Dance Me a Story: Exploring Literature Through Ballet in partnership with Ballet Quad Cities every Thursday from July 11–August 8; The cArt! which is available Saturdays and Tuesdays in selected galleries starting July 6; and Family Day on August 3. Docent guided tours will take place on selected Saturdays and Sundays in July and August.
"Summer free admission has become a tradition at the Figge," said Executive Director Tim Schiffer. "It makes our exhibitions and events accessible to everyone in the community. Whether you are an art lover or not, we want you to come and see what the Figge is all about."
To coincide with Figge's first day of free admission, the second-floor Lewis Gallery will feature a new exhibition by Quad City artist and photographer Randy Richmond.
Randy Richmond: Verisimilitude, opening July 6, includes a series of 10 large-format photographs inspired by Western art historical tradition. Richmond's delightfully complex images combine aspects of Dutch still-life paintings, the dramatic lighting found in Neoclassical portraiture and the soft focus photography of the early 20th century. His photographs are careful arrangements of found objects combined with taxidermy animals from the collections of St. Ambrose University and the Nature Center at Nahant Marsh which invite the viewer to discover the stories embedded in each.
Sponsored by the Hunt and Diane Harris Family Foundation, John Danico Family and The Carolyn Levine and Leonard Kallio Trust, Randy Richmond: Verisimilitude will be on view through January 5, 2020.
Other exhibitions currently on view include: Vanessa German: Miracles and Glory Abound, Vik Muniz: Hand Remade, Submerged in the Sublime: The Landscape Photography of Kim Keever, Art by the Foot as well as the permanent collection galleries.
Companion Programming:
Collection and Exhibition Highlights Tours
1:30 p.m. Saturday, July 6, 13, 20; August 3, 10
1:30 p.m. Sunday, July 7, 14, 21; August 4, 11
The cArt!
1-3 p.m. Saturdays: July 6-August 10
1-3 p.m. Tuesdays: July 9–August 6
Find the art cart in selected galleries for in-depth conversations about art! Explore art in new ways.
Big Picture: In the House!
Wednesdays: July 10–August 7
Morning Session: 10:30-11:30 a.m.
Afternoon Session: 1:30-2:30 p.m.
Join the Figge Big Picture outreach Program for this special IN-HOUSE series geared for all young art enthusiasts! Suitable for ages 5-12. Parents welcome to join in or explore the museum during each session.
Dance Me a Story: Exploring Literature through Ballet
10:30 a.m. Thursdays, July 11–August 8
Explore literature through the medium of dance in the Figge's John Deere Auditorium. Read the story, turn on the music, grab a costume and learn the choreography. Thanks to Ballet Quad Cities for their partnership.
Artist Talk: Randy Richmond
Thursday, July 11
4 p.m. Happy hour menu / cash bar
6:30 p.m. Talk
Celebrate the opening of the exhibition Verisimilitude with a talk by featured artist Randy Richmond.
Family Day
10 a.m.-1 p.m. Saturday, August 3
Admission is free all day!
Sponsored by Quad-City Times and Wells Fargo
About the Figge Art Museum:
The Figge Art Museum is located on the Mississippi River in downtown Davenport at 225 West Second Street. Hours are from 10 a.m. to 5 p.m., Tuesday through Saturday and Sunday from noon to 5 p.m. Thursdays the museum is open until 9 p.m. Admission to the museum and tour is normally $10 for adults, $6 for seniors and students with ID and $4 children ages 4-12, but FREE to all July 6–August 11, 2019. Admission is free to Figge members and institutional members, and always free to all on Thursday evenings from 5 p.m. to 9 p.m. The Figge Café is open 11 a.m.-2 p.m. Tuesday-Friday. To contact the museum, please call 563.326.7804, or visit www.figgeartmuseum.org.