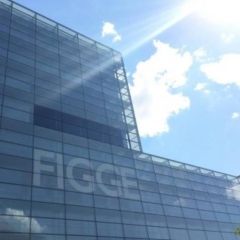 PRESS RELEASE
Figge Café featuring Chef Stu Reopening Thursday, April 22
April 22, 2021
---
Davenport, Iowa (April 21, 2021) – The Figge Café featuring the culinary skills of Quad City native Chef Jason Stewart will be reopening to the public on Thursday, April 22.

Stewart, who is also known as "Chef Stu" and owner of Zeke's Island Café in Bettendorf, will be introducing a completely updated menu that will launch in conjunction with the Café's reopening. Items include a variety of sandwiches including the Rustic Burger that is ground fresh and hand pressed daily, vegetable cheddar chowder soup, loaded Caesar and B.L.T. salads with house made salad dressings, a selection of Bistro Bowls with various protein options, sweet treats like sour cream apple crumb, and much more.
"I want the food on the menu to compliment the art on view," says Chef Stu, who studied culinary arts at Johnson & Wales University in Providence, RI and graduated with a 4.0. "As one of the top tourist destinations in the Quad Cities, it's important the visitor experience is special whether they are in the galleries or dining in the Café."
The Café will be open for lunch Tuesday-Friday from 11 a.m.- 2 p.m. Seating will be socially distanced and there will be precautions in place to make sure the dining experience is safe and comfortable for all patrons.
"Having the Café open again provides another in-person option for our visitors to experience," said Figge Executive Director and CEO Michelle Hargrave. "We are excited for the public to try the new menu and enjoy the spectacular river views from the dining room while sampling Chef Stu's delicious creations."
A portion of every Figge Café purchase directly supports the Figge's mission of bringing art and people together. Figge members receive a 10% discount in the Café. Not a member? Join today by visiting www.figgeartmuseum.org.
About the Figge Art Museum:
The Figge Art Museum is dedicated to bringing art and people together. Located on the Mississippi River in downtown Davenport at 225 West Second Street, the Figge is the premier art exhibition and education facility between Chicago and Des Moines. Its landmark glass building, designed by British architect David Chipperfield, is home to one of the Midwest's finest art collections and presents world-class traveling exhibitions, art classes, lectures, and special events that attract visitors of all ages. Museum hours are 10 a.m.­­-5 p.m. Tuesday, Wednesday, Friday, and Saturday; 10 a.m.-8 p.m. on Thursdays; and 12-5 p.m. on Sundays. Reservations are strongly encouraged and can be made at www.figgeartmuseum.org or by calling 563-345-6632. Admission to the museum is $10 for adults, $6 for seniors and students with ID and $4 children ages 4- 12. Admission is free to Figge members and institutional members and to all on Thursday evenings. The Figge Café is open for lunch Tuesday-Friday 11 a.m.-2 p.m. To contact the museum, please call 563.326.7804, or visit www.figgeartmuseum.org.
–END–