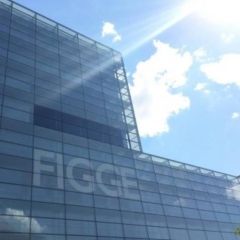 News
Figge Art Museum Unveils Deere Art Collection
April 19, 2010
---
The Figge Art Museum will open Global Currents: The John Deere Art Collection on Saturday April 24, 2010. The exhibition is the first opportunity for the general public to see works from Deere & Company's corporate art collection.

In 1965, William Hewitt, then chairman of Deere & Company, established an art collection to compliment the company's new modernist world headquarters in Moline, Illinois, which was designed by Eero Saarinen. With significant art originating from the United States, Latin America, and Asia, as well as Central and Eastern Europe, Deere has amassed an international collection that represents the diverse cultures in which the company conducts worldwide business. The exhibition includes works by such world famous artists as Grant Wood, Edward Curtis, Henri de Toulouse-Lautrec, Rufino Tamayo, David Alfaro Siqueiros, Alejandro Obregón, Magdalena Abakanowicz, Sofu Teshigahara, and Matazo Kayama. The exhibition will include Grant Wood's iconic Fall Plowing, as well as his Fruits of Iowa series.

"The Deere art collection is regionally well-known, but few people have been able to view the significant works all at once," said Figge Art Museum Director Sean O'Harrow. "To be able to provide access to their art collection by letting the Figge curate a public exhibition and gallery is a great contribution to the cultural offering in the region."

Community Opening
Saturday, April 24
10am – 5pm

Thursdays at the Figge
During "Thursdays at the Figge" art talks in May, selected works from the exhibition will be featured. More information will be available at www.figgeartmuseum.org.

For images and all media requests, please contact:
Dan McNeil, Figge Art Museum, dmcneil@figgeartmuseum.org.563.326.7804 X 2047.