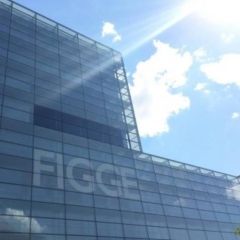 PRESS RELEASE
Figge Art Museum to Sign New Contract with City of Davenport and Quad Cities Cultural Trust on June 3
July 18, 2019
---
Davenport, Iowa (May 28, 2019) – The Figge Art Museum will sign a new contract with City of Davenport and Quad Cities Cultural Trust on Monday, June 3 at 2:30 p.m. in the Figge's Quad City Bank & Trust Grand Lobby.
Under an agreement signed in 2003, the Figge agreed to house, care for and exhibit the city's collection, which had grown to almost 4,000 works, until the year 2023. The new agreement extends the existing agreement into the future, ensuring the safety of the City's collection and its accessibility to the public. As part of the contract, the Figge agrees to meet certain fundraising goals, and to bring an alderman, chosen by the Mayor, onto its board. The Quad Cities Cultural Trust, which provides operating grants to six Quad Cities cultural organizations, agrees to continue making yearly grants to support the Figge's programs and exhibitions.
"This is a banner day for the Figge," said Board President Cindy Carlson. "We appreciate the support of the Mayor, the city council and city staff, and the Quad Cities Cultural Trust for putting this new contract in place. It ensures the Figge's sustainability into the future."
The museum was founded in 1925 when former Davenport Mayor Charles A. Ficke offered his collection of over 300 works of art to the City of Davenport. As a result, the Davenport Municipal Art Gallery opened in a former armory on Fifth Street. The museum later moved to a site adjacent to the Putnam Museum in the 1960s. It was renamed the Davenport Museum of Art in 1987 and was operated by the city until 2005, when the Figge Art Museum opened downtown.
Located on the banks of the Mississippi River in downtown Davenport, the Figge Art Museum serves over 100,000 people each year, including visitors from all fifty states and many foreign countries. Its exhibitions feature world-renowned artists, both traditional and contemporary, and its education programs serve over 5,000 Quad Cities students who come for tours with their classes, as well as over 20,000 students who participate in the Big Picture Outreach Program in their classrooms.
About the Figge Art Museum:
The Figge Art Museum is located on the Mississippi River in downtown Davenport at 225 West Second Street. Hours are from 10 a.m. to 5 p.m., Tuesday through Saturday and Sunday from noon to 5 p.m. Thursdays the museum is open until 9 p.m. Admission to the museum and tour is $10 for adults, $6 for seniors and students with ID and $4 children ages 4-12. Admission is free to Figge members and institutional members, and always free to all on Thursday evenings from 5 p.m. to 9 p.m. The Figge Café is open 11 a.m.-2 p.m. Tuesday-Friday. To contact the museum, please call 563.326.7804, or visit www.figgeartmuseum.org.