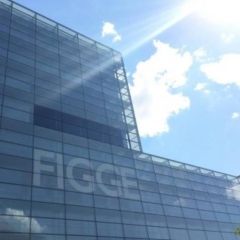 PRESS RELEASE
Exhibition by Renowned Iowa Artist Opening Saturday at the Figge Art Museum
September 12, 2019
---
Contact: Natalie Dunlop
Marketing & Communications
t 563.345.6651
ndunlop@figgeartmuseum.org
PRESS RELEASE
FOR IMMEDIATE RELEASE
Exhibition by Renowned Iowa Artist Opening Saturday at the Figge Art Museum
Davenport, Iowa (September 9, 2019) – Fall is upon us and with each changing of the season new exhibitions open at the Figge Art Museum. This Saturday, the first of six fall exhibitions will open.
John Dilg: Arterial Resources includes 30 works by University of Iowa emeritus professor of painting and drawing John Dilg. New York Times critic Roberta Smith described John Dilg's work as "cartoon-visionary." Critic John Yau wrote that Dilg's landscapes "arise out of the collision of observation and memory, things seen and the history of painting remembered," evoking an "otherworldly hush and reverence." The exhibition takes its name from the eponymous painting of a verdant mound, bubbling with streams of life-giving water and, by implication, the fragility of life should earth's arteries run dry.
Dilg says the works on view will both recollect and recompose important memories that, though personal in premise, could be applicable to anyone.
John Dilg: Arterial Resources John Dilg: Arterial Resources will be on view in the second-floor Katz Gallery through January 5, 2020.
This fall at the Figge will also include Steve Erickson: Painter opening September 14, Mia Feuer: Totems of the Anthropocene opening September 21, Day of the Dead: The Art of Remembrance opening September 21, Portrait of Maquoketa opening October 19 and The Storytelling Tree opening October 19.
Companion Programming:
Reception & Artist Talk: John Dilg & Steve Erickson
4 p.m. Happy hour menu / Cash bar
5:30 p.m. Reception
6:30 p.m. Thursday, September 12
Artists John Dilg and Steve Erickson will introduce their exhibitions and speak about their artistic processes.


Collection and Exhibition Highlights Tours
1:30 p.m. Saturday, September 28, October 12, 26, November 9 and December 7, 14
1:30 p.m. Sunday, September 22, October 6, 20, November 3, 17 and December 1
Members only tours 1:30 p.m. Friday, December 6, Sunday, December 8 and Tuesday, December 10
Free Family Day
10 a.m.-1 p.m. Saturday, November 23
Admission is free all day!
Sponsored by Quad-City Times and Wells Fargo
About the Figge Art Museum:
The Figge Art Museum is located on the Mississippi River in downtown Davenport at 225 West Second Street. Hours are from 10 a.m. to 5 p.m., Tuesday through Saturday and Sunday from noon to 5 p.m. Thursdays the museum is open until 9 p.m. Admission to the museum and tour is $10 for adults, $6 for seniors and students with ID and $4 children ages 4-12. Admission is free to Figge members and institutional members, and always free to all on Thursday evenings from 5 p.m. to 9 p.m. The Figge Café is open 11 a.m.-2 p.m. Tuesday-Friday. To contact the museum, please call 563.326.7804, or visit www.figgeartmuseum.org.
–END–