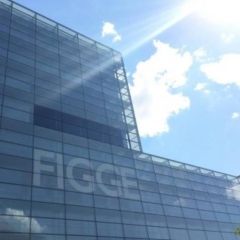 PRESS RELEASE
Dimensional: 3D Works from the Figge Collection to Open Saturday at the Figge Art Museum
September 9, 2021
---
Davenport, Iowa (September 9, 2021) – There are so many reasons to visit the Figge Art Museum, but the latest reason is to see Dimensional: 3D Works from the Figge Collection. Opening Saturday, this exhibition offers visitors a special chance to explore works from the museum's collection including recent acquisitions and works that have not been on view for over a decade.

When people think of three-dimensional works of art, they might just imagine a bronze or marble sculpture. However, this artform encompasses all types of objects and varies depending on the technique and materials used to produce the three-dimensional work. Artworks can be made from a single material, such as a marble statue, or from many mediums, as with folk art assemblages. Techniques used can include traditional ones like stone carving and ceramic production or more recent methods such as assemblage and casting plastics, which artists are using to reshape the confines of what this artform can be.
Dimensional: 3D Works from the Figge Collection features over 65 three-dimensional works from the museum's collection, including examples of sculpture, industrial design, ceramics, and decorative arts objects. Visitor favorites will be on display, including we are the animals are us by Vanessa German, Big Chief and Mad Crystal by artist John Ahearn and Columbus Skyline by William Hawkins as well as Dry Iron Model by Henry Dreyfuss and Small Copper Tea Kettle by Grant Wood.
"Our collection of three-dimensional works continues to grow to include not only a diverse array of artists, but a wide selection of mediums including meticulously carved cameos and large works made from welded steel," said Figge Executive Director and CEO Michelle Hargrave. "This will be the first time these works have been exhibited together in one gallery."
The artworks on display range from those created by artists of the previous century all the way to contemporary assemblages made by artists working today. The exhibition will explore the various techniques used in the creation of these 3-D objects – those works that have dimensions of height, width, and depth, and which are usually meant to be seen in the round. It is organized according to the four predominant methods of sculptural production – carving, modelling, casting, and assembly. This allows comparisons of technique across time-period and materials, creating an in-depth look at varying artistic processes through the lens of the museum's collection.
"Often when we pull exhibitions from the collection we are focusing on thematic or historical connections," said Figge Assistant Registrar Joshua Johnson. "In this exhibition we are grouping the works together based on the ways in which they were made giving us an exciting opportunity to compare and contrast how artists approach similar working methods and materials in drastically different ways."
Dimensional: 3D Works from the Figge Collection is sponsored by Mark and Barbara Zimmerman and will be on view in the third-floor gallery through January 16, 2022.
Companion Programs:
Virtual Family Day – Your Way!
Access begins September 25
Join us for this family-flexible virtual enrichment experience. Your free online registration grants your family two weeks of access to a virtual line-up related to Dimensional: 3D Works from the Figge Collection, which means you can choose your day to play! Free family activity packets will be available for pickup at the museum for each registrant that selects them when registering. "Launch" dates reflect the first day of access.
Sponsored by Royal Neighbors
Curator Talk: Joshua Johnson
Thursday, October 21, 6:30 p.m.
About the Figge Art Museum:
The Figge Art Museum is dedicated to bringing art and people together. Located on the Mississippi River in downtown Davenport at 225 West Second Street, the Figge is the premier art exhibition and education facility between Chicago and Des Moines. Its landmark glass building, designed by British architect David Chipperfield, is home to one of the Midwest's finest art collections and presents world-class exhibitions, art classes, lectures, and special events that attract visitors of all ages. Museum hours are 10 a.m.­­-5 p.m. Tuesday, Wednesday, Friday, and Saturday; 10 a.m.-8 p.m. on Thursdays; and 12-5 p.m. on Sundays. Reservations are not required, but can be made at www.figgeartmuseum.org or by calling 563-345-6632. Admission to the museum is $10 for adults, $6 for seniors and students with ID and $4 children ages 4-12. Admission is free to Figge members and institutional members and to all on Thursday evenings. You can become a member for as little as $50 by visiting the Figge website. The Figge Café is open for lunch Tuesday-Friday 11 a.m.-2 p.m. To contact the museum, please call 563.326.7804, or visit www.figgeartmuseum.org.
-END-