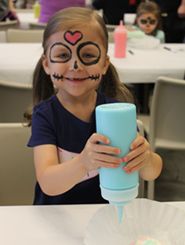 PRESS RELEASE
Day of the Dead Family Fiesta
October 22, 2018
---
Davenport, Iowa (October 22, 2018) – The Figge Art Museum will host its 11th annual Day of the Dead Free Family Fiesta from noon-5 p.m. Sunday, October 28.

El Dia de los Muertos (The Day of the Dead) is a profoundly serious traditional Mexican holiday celebrated with great joy, laughter, music and dance to remember the lives of lost loved ones.
Enjoy free museum admission all day while celebrating the rich cultural traditions of El Día de los Muertos through hands-on activities, art projects, live performances from Ballet Folklorico, music from the Glenview Mariachi Band, films and authentic foods throughout the museum. Explore the collection of Catrinas and a traditional altar as well.
"Day of the Dead has become a treasured tradition at the Figge Art Museum for over a decade. This rich cultural celebration reaches across barriers of gender, race and socioeconomic backgrounds to embrace and express the universal human truths of life, death, love, loss and personal expression," said Figge Education Programs Coordinator Heather Aaronson.
This event is made possible through a partnership with the LULAC Quad Cities and Hola America and is sponsored by the Quad-City Times, Ascentra Credit Union and West Gateway Partners LLC.
–END–