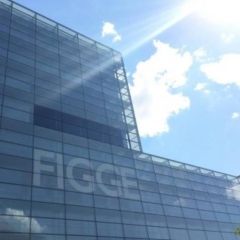 PRESS RELEASE
Celebrate Women's History Month with B100's Girls Night Out at the Figge Saturday at the Figge Art Museum
February 28, 2023
---
Davenport, Iowa (Tuesday, February 28) – Grab your gals and get ready to have a blast with B100 during Girls Night Out at the Figge on Saturday, March 4 from 5-8 p.m.! This event will bring the Figge to life after hours in celebration of Women's History Month and the many female artists and female-focused exhibitions currently on view.
This event is just $10 which will give you access to tons of after-hours fun, including live music with B100 from the Figge's Quad City Bank & Trust Grand Lobby, cash bar and complimentary snacks, full access to the museum, a museum scavenger hunt, an adult art activity (make your own journals), a free photo booth, an exclusive Brick & Motor Boutique pop-up shop, and so much more!
Enjoy all four floors of the museum, including the latest major exhibition, Sporting Fashion: Outdoor Girls from 1800 to 1960, a must-see exhibition exploring over 150 years of fashion pioneered by fearless women through 64 fully accessorized head-to-toe garments presented from the height of each sport's popularity. Guests will be entered to win a variety of prizes that will be given away every 15 minutes throughout the evening, including prizes from Nally's Kitchen, Inc, Plato's Closet, Nothing Bundt Cakes, Barrel House Food & Spirits, Wide River Winery, Quad City Symphony Orchestra, Thunder Bay Grille, Crafted QC, Daquiri Factory, RAYGUN, The Vault Beauty and Urban Retreat, Hot Glass, Hy-Vee, Two Rivers Massage, River Museum, Blo Blow Dry Bar, Hotel Julien, tickets to One Night of Queen, tickets to Quad City Storm Professional Hockey, tickets to Ultimate 90s Dance Party "Fool House" at The Rust Belt , tickets to Reba at Vibrant Arena and tickets to Stryper at The Rust Belt, and a Chula Vista Prize Pack (overnight stay in a junior suite and activity passes).
"We are excited to provide a meaningful and memorable event in celebration of Women's History Month and all of the fearless and fabulous women who have made—and continue to make—contributions that inspire and empower us all," said Figge Director of Marketing and Communications Lacey Skorepa. "This is a super fun, low-cost event that has so much added value for all who attend."
Advanced tickets can be purchased at www.figgeartmuseum.org until 2:00 p.m. Saturday, March 4. Tickets will also be available at the door. No additional purchase will be required to win giveaways, must be present to win; giveaways will be drawn throughout the event.
ABOUT THE FIGGE ART MUSEUM: The Figge Art Museum is dedicated to bringing art and people together. Located on the Mississippi –MORE– River in downtown Davenport at 225 West Second Street, the Figge is the premier art exhibition and education facility between Chicago and Des Moines. Its landmark glass building, designed by British architect David Chipperfield, is home to one of the Midwest's finest art collections and presents worldclass exhibitions, art classes, lectures, and special events that attract visitors of all ages. Museum hours are 10 a.m.-5 p.m. Tuesday, Wednesday, Friday, and Saturday; 10 a.m.-8 p.m. on Thursdays; and 12-5 p.m. on Sundays. Reservations are not required but can be made at www.figgeartmuseum.org or by calling 563-345-6632. Admission to the museum is $10 for adults, $6 for seniors and students with ID and $4 children ages 4-12. Admission is free to Figge members and institutional members and to all on Thursday evenings. You can become a member for as little as $50 by visiting the Figge website. To contact the museum, please call 563.326.7804, or visit www.figgeartmuseum.org.


-END-