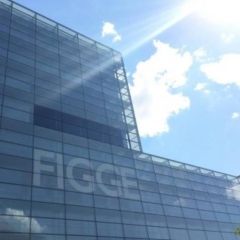 PRESS RELEASE
Cancer Survivor Art on Display
September 8, 2020
---
PRESS RELEASE
FOR IMMEDIATE RELEASE
Cancer Survivor Art on Display at the Figge
Beginning Saturday, September 26
Davenport, Iowa (September 8, 2020) – The Figge Art Museum will welcome back Living Proof Exhibit, a non-profit organization that provides the therapeutic benefits of the arts to people impacted by cancer, for its annual exhibition of cancer survivor art beginning Saturday, September 26.
Living Proof Exhibit: A Visualization of Hope will be displayed in the museum's second-floor Mary Waterman Gildehaus Community Gallery and includes works in a variety of mediums including painting, sculpture, photography, cold wax, watercolor, ceramic, assemblage, acrylic and oil paintings created by 24 cancer survivors within a 200-mile radius of the Quad Cities area.
"This year, people impacted by cancer have had to cope with the additional stress of the pandemic," said Living Proof Exhibit Executive Director Pamela Crouch. "We have continued to provide ways to help people reduce this stress through the arts and this exhibition shows the inner strength of our cancer survivor artists and the hope that exists for them beyond cancer."
Two free virtual companion events celebrating the artists on view will be taking place on Thursday, September 24 and October 1. Registration is required at www.figgeartmuseum.org, but both events are free with registration.
"As Living Proof Exhibit celebrates 10 years of existence, the Figge is proud once again to host this exhibition that continually brings with it feelings of healing, happiness and hope to so many in our community," said Figge Director of Education Melissa Mohr. "Now more than ever, Living Proof Exhibit's message is crucial for us to remember—that even during dark and uncertain times, we can look to the therapeutic and healing potential of art to help us through."
Sponsored by Royal Neighbors of America and The Iowa Cancer Consortium, Living Proof Exhibit: A Visualization of Hope will be on view through December 6, 2020.
Companion Programs:
Virtual Artist Celebration: Living Proof Exhibit
6:30 p.m. Thursday, September 24
Learn about the artists of Living Proof Exhibit: A Visualization of Hope and hear from Executive Director Pamela Crouch as she introduces the exhibition. Free, but registration is required at www.figgeartmuseum.org.
Virtual Artist Talks: Living Proof Exhibit
6:30 p.m. Thursday, October 1
Hear from three artists whose artworks are included in the exhibition Living Proof Exhibit: A Visualization of Hope as they talk about their artistic practices and currents works. Featured artists are Tara Moorman (Cedar Rapids), Kent Broadbent (Annawan) and Meg Guttman (Chicago). Free, but registration is required at www.figgeartmuseum.org.
Thursday programs are sponsored by Chris and Mary Rayburn.
About the Figge Art Museum:
The Figge Art Museum is dedicated to bringing art and people together. Located on the Mississippi River in downtown Davenport at 225 West Second Street, the Figge is the premier art exhibition and education facility between Chicago and Des Moines. Its landmark glass building, designed by British architect David Chipperfield, is home to one of the Midwest's finest art collections and hosts world-class traveling exhibitions, art classes, lectures, and special events that attract visitors of all ages. Museum hours are 10 a.m.­­-5 p.m. Tuesday, Wednesday, Friday, and Saturday; 10 a.m.-8 p.m. on Thursdays; and 12-5 p.m. on Sundays. Reservations are strongly encouraged and can be made at www.figgeartmuseum.org or by calling 563-345-6632. Reservation times are available at 10 a.m., 12:30 p.m. or 3 p.m. on Tuesday-Saturday; Thursdays there is also a 5:30 p.m. slot available for all. The 10 a.m. reservation period Tuesday-Friday will be reserved for those who are high-risk visitors. Admission to the museum is $10 for adults, $6 for seniors and students with ID and $4 children ages 4- 12. Admission is free to Figge members and institutional members and to all on Thursday evenings. The Figge Café is open for lunch 11 a.m.-2 p.m. Tuesdya-Saturday. To contact the museum, please call 563.326.7804, or visit www.figgeartmuseum.org.
–END–