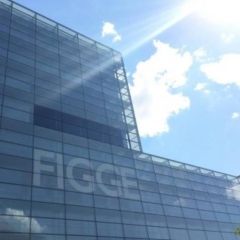 PRESS RELEASE
Art Nouveau Amphora Opens Saturday at the Figge Art Museum
January 14, 2019
---
PRESS RELEASE
FOR IMMEDIATE RELEASE
Art Nouveau Amphora to Open Saturday at the Figge Art Museum
Davenport, Iowa (January 14, 2019) – The second-floor Lewis Gallery at the Figge Art Museum will have Art Nouveau Amphora on view beginning Saturday. The exhibition is organized by the Figge Art Museum and features more than 20 pieces of Amphora.
Art Nouveau or the "new Art" emerged in the late 19th century and is recognized for the use of curvilinear forms inspired by nature and a focus on aesthetic beauty. Developing out of the Aesthetic Movement, Art Nouveau gained international popularity and influenced art, architecture, illustration and decorative arts.
During this period, Louis Comfort Tiffany and his studios created stained glass windows and iridescent art glass, while in Turn-Teplitz, Austria (now part of the Czech Republic), the manufacturer Riessner, Stellmacher and Kessel (RSt&K), later called Amphora, produced distinctive art pottery.
Amphora's elaborate creations ranged from the elegant to the bizarre and often were finished with striking glazes and gold accents. Some artisans sculpted mythical beasts, while others decorated vessels with images of beautiful women.
While Amphora is best known for their pottery in the Art Nouveau style, they produced a range of work demonstrating shifting tastes and artistic styles during the era.
Art Nouveau Amphora will be on display in the Lewis Gallery through June 16, 2019. In-kind support for the exhibition is provided by members of Amphora Collectors international.
Companion Events:
Free Family Day
10 a.m.-1 p.m. Saturday, February 23
Free admission all day
Join us for special activities for the entire family inspired by the current exhibitions.
Author/Collector Talk
6:30 p.m. Thursday, May 2
Author and collector Bryon Vreeland will speak about the exhibition.
Exhibition and Collection Highlights Tours
1:30 p.m. Saturday, February 23, March 9, 23, April 13, 27, May 4
1:30 p.m. Sunday, February 24, March 10, 24, April 14, 28, May 5
About the Figge Art Museum:
The Figge Art Museum is located on the Mississippi River in downtown Davenport at 225 West Second Street. Hours are from 10 a.m. to 5 p.m., Tuesday through Saturday and Sundays noon to 5 p.m. Thursdays the museum is open until 9 p.m. Admission to the museum and tour is $10 for adults, $6 for seniors and students with ID and $4 children ages 4-12. Admission is free to Figge members and institutional members, and always free to all on Thursday evenings from 5 p.m. to 9 p.m. The Figge Café is open 11 a.m.-2 p.m. Tuesday-Friday. To contact the museum, please call 563.326.7804, or visit www.figgeartmuseum.org.
–END–