College Invitational at the Figge
May 3, 2018 - August 12, 2018
Buy Tickets
About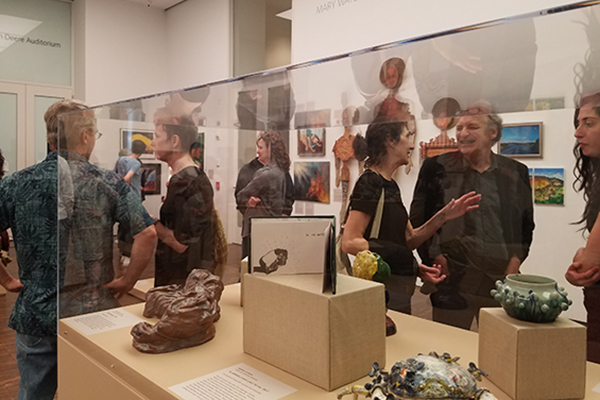 This year marks the tenth incarnation of the College Invitational. Students to be included in this exhibition hail from eight area colleges and universities, including Augustana College, Black Hawk College, Clinton Community College, Knox College, Monmouth College, Scott Community College, St. Ambrose University, and Western Illinois University. Art professors from each of the participating colleges were tasked with selecting the top works from their school to provide the framework for this year's College Invitational. Students will dazzle and amaze with well-crafted 2-D and 3-D artworks in various media.
Thanks to a generous scholarship from Barbara Leidenfrost in loving memory of her husband, Oscar, the Figge awarded cash prizes for first-, second- and third-place winners. Winners were selected by a panel of judges comprised of local artists.

First Place: Gail Ray, Third year, Scott Community College | Entertaining Angels Unaware, 2018, wood, oil and found objects
Second Place: Roberto Torres, Senior, Western Illinois University | Rosary of Inquisition, 2017, ceramics/sculpture
Third Place: Jessica Boone, Senior, St. Ambrose University | Light and Dark, 2017, photography

Honorable Mention:
Amy Vellenga-Buban, Sophomore, Monmouth College | McDemon, 2017, pastel
Kaelie Seatter, Junior, Knox College | Spudo's Donuts, 2018, acrylic on canvas

Judges Choice:
Amanda Olson, Senior, Augustana College | Untitled, 2017, tapestry
Nicholas Callaway, Senior, Monmouth College | The Space Between, 2017, plaster, steel stock, sheet steel, concrete
Image Credit: Courtesy of the Figge Art Museum.