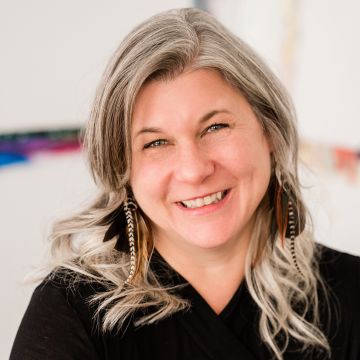 EVENT
Artful Conversations
June 2, 2023 | 1:00pm - 2:00pm
LOCATION: Figge Art Museum
Join the conversation at this fun and informal session where we gather to talk about art. NO art background is necessary. The session is for everyone and all are welcome! Guests will be invited to look closely at two works of art in the collection, reflecting on what they see, think, and feel while connecting with the art. Conversations will be led by visual artist and art psychotherapist, Dana Keeton.

Participants will leave with supplies to continue their personal conversation through art-making. Free with membership or paid admission.
Dana Keeton Bio:
Dana Keeton is an artist, art therapist and licensed mental health counselor in private practice in Iowa City. Her work with clients focuses on an integrative mind-body approach rooted in trauma-informed art psychotherapy. In addition to her clinical work, Dana provides art therapy informed workshops in museum settings. Her creative background includes managing all aspects of a university gallery, as well as working as a photojournalist, photography instructor and fine art photographer. Dana's art making practice continues to evolve from creating as a solo photographer, to collaborative, large-scale multimedia projects with her artistic and life partner Daniel Fine. Their work, Impermanence, a 20-minute performance that combines live mandala creation, video projection mapping, real-time video and music was most recently performed at the Figge Art Museum, April 2022.
ART & MORE