Member Trip to the Art Institute of Chicago | Friday, August 30th | 7 a.m. - 7 p.m.
$75 members / $85 non-member guests
Enjoy the exhibition Manet and Modern Beauty with Figge Director of Education Melissa Mohr. This is the first exhibition the Institute has devoted solely to Edouard Manet in more than 50 years. Price includes motorcoach, tickets and snacks on the bus. Guests will have time to lunch on their own and visit nearby shopping and museums such as the Driehaus.
Seating is limited. REGISTER ONLINE HERE or for more information, please contact Heather Aaronson at 563.345.6630 or haaronson@figgeartmuseum.org.


---
Travel to France with the Figge this Fall | September 23 – October 4, 2019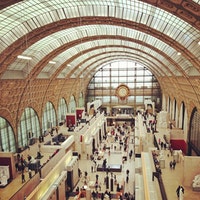 Back by popular demand, the Figge will travel to France for a second "French Moderns" tour from September 23 - October 4, 2019. Figge members will explore Nice, Nimes, Giverny, Avignon, Paris and much more.
For more information and to sign up, contact Joan McGee at The Travel Business: 309.762.9665.