Travel to France with the Figge this Fall | September 23 – October 4, 2019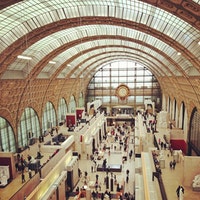 Back by popular demand, the Figge will travel to France for a second "French Moderns" tour from September 23 - October 4, 2019. Figge members will explore Nice, Nimes, Giverny, Avignon, Paris and much more.
For more information and to sign up, contact Joan McGee at The Travel Business: 309.762.9665.
Figge Travel Program: Pittsburgh| May 7-12, 2020
The Figge offers wonderful travel opportunities for members. in May 2020, members may experience Pittsburgh, PA., in a unique way. This trip will feature tours of the Andy Warhol Museum and Frick Pittsburgh as well as a visit with Artist Vanessa German! The Duquesne Incline, the Strip District and Frank Lloyd Wright's Fallingwater are also on the itinerary. Contact Tessa Pozzi with questions at tpozzi@figgeartmuseum.org or 563.345.6638.