Figge Travel
View Tiffany Windows in Dubuque
Friday, March 15, 2019
$40 members; $50 non-member guests
(Pricing includes motor coach, tour and museum admission , lunch is not included)
Inspired by the exhibition Louis Comfort Tiffany: Treasures from the Driehaus Collection, the museum will offer a spring trip to St. Luke's United Methodist church in Dubuque, Iowa. The church is home to the fifth largest collection of Tiffany windows in the United States. Each window is a unique work of art, created by Louis Comfort Tiffany in his New York studio. The Figge will take part in a guided tour of the windows of St. Luke's, and then enjoy lunch and shopping in Cable Car Square, a wonderful downtown district, during this fun day-trip for museum members and guests. Details will be announced soon! For more information, contact Heather Aaronson 563.345.6630 or haaronson@figgeartmuseum.org.
Itinerary with approximate times:
7:30 a.m. Tri-State motor coach will depart from the Figge Plaza
9 a.m. Arrive at St. Luke's for a guided tour of the Tiffany windows
11:15 a.m. Depart St. Luke's for lunch and shopping at Cable Car Square
1:30 p.m. Depart Cable Car Square for the Dubuque Museum of Art
4 p.m. Depart the Dubuque Museum of Art for return trip to Davenport
5:30 p.m. Arrive at the Figge Art Museum
Travel to France with the Figge this Fall!

September 2019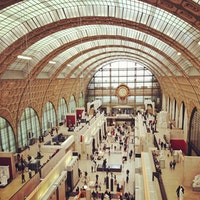 Back by popular demand, the Figge will travel to France for a second "French Moderns" tour in September of 2019. Figge members will explore Nice, Nimes, Giverny, Avignon, Paris and much more.
For more information and to sign up, contact Joan McGee at The Travel Business: 309.762.9665.