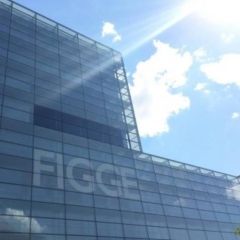 PRESS RELEASE
Vik Muniz: Hand Remade to Open at the Figge Art Museum on Saturday
July 18, 2019
---
Davenport, Iowa (June 3, 2019) – Opening Saturday, June 8 in the Figge's third floor gallery is Vik Muniz: Hand Remade. Vik Muniz is an internationally acclaimed artist who is known for working with unusual materials, like chocolate syrup, diamonds and garbage, to re-compose iconic images from art history and pop culture. These constructions are temporary, while the photographs he takes of them constitute the final artwork.

Vik Muniz: Hand Remade will feature one of Muniz's most recognized series, Pictures of Garbage (a gift of Brent Sikkema). In this series he relied on local catadores or garbage pickers from Rio de Janeiro's Jardim Gramacho, one of the world's largest garbage dumps, to act as models and to arrange discarded toilet seats, shoes and other refuse to recreate famous works of art piece by piece.
Recent works from the Handmade series (courtesy of Sikkema Jenkins in New York), will also be featured. This series is distinct from his usual work: they are largely abstract compositions and each piece integrates physical material, as well as photography, into the final artwork. Muniz worked with materials such as paper, rope and fabric to create these artworks. The way in which he layers the materials creates uncertainty between what is the object and what is a photograph of an object. For example, he may layer ripped paper beside a photograph of ripped paper or adhere rope to an image of an object bound with rope.
The exhibition will have a closed-circuit gallery interactive that will allow visitors to try their hand at making a large mosaic image. In addition, the Academy Award-nominated film WASTE LAND will be playing in the exhibition space.
Sponsored by Chris and Mary Rayburn, Vik Muniz: Hand Remade is made possible by generous loans courtesy of Sikkema, Jenkins & Co. New York and the Artist as well as works from a private collection. The exhibition will be on view through September 29.
Companion Programs:
Exhibition Introduction
6:30 p.m. Thursday, June 13
Figge Assistant Curator Vanessa Sage will introduce the exhibition.
Documentary Screening
6:30 p.m. Thursday, August 1
WASTE LAND follows renowned artist Vik Muniz as he journeys from his home base in Brooklyn to his native Brazil and the world's largest garbage dump, Jardim Gramacho, located on the outskirts of Rio de Janeiro.
Scholar Talk; Dr. David Cunning
6:30 p.m. Thursday, August 8
Dr. David Cunning, professor, collegiate scholar and Chair of the Philosophy Department at the University of Iowa, will present the life and philosophical work of Margaret Cavendish as he sees it in relation to the themes presented in Vik Muniz's exhibition.
Scholar Talk: Dr. John Lucaites
6:30 p.m. Thursday, September 5
Dr. John Lucaites will discuss iconic photographs and the artwork of Vik Muniz. Lucaites is emeritus professor of rhetoric in the English Department at Indiana State University.
Collection and Exhibition Highlights Tours
1:30 p.m. Saturday, June 8; July 7, 14, 21; August 4, 11
1:30 p.m. Sunday, June 9; July 8, 15, 22; August 5, 12
About the Figge Art Museum:
The Figge Art Museum is located on the Mississippi River in downtown Davenport at 225 West Second Street. Hours are from 10 a.m. to 5 p.m., Tuesday through Saturday and Sunday from noon to 5 p.m. Thursdays the museum is open until 9 p.m. Admission to the museum and tour is $10 for adults, $6 for seniors and students with ID and $4 children ages 4-12. Admission is free to Figge members and institutional members, and always free to all on Thursday evenings from 5 p.m. to 9 p.m. The Figge Café is open 11 a.m.-2 p.m. Tuesday-Friday. To contact the museum, please call 563.326.7804, or visit www.figgeartmuseum.org.