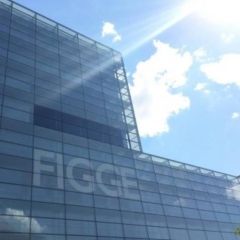 PRESS RELEASE
Submerged in the Sublime: The Landscape Photography of Kim Keever Opening Saturday
February 4, 2019
---
225 West Second Street
Davenport, IA 52801
t 563.326.7804
www.figgeartmuseum.org
Contact: Natalie Dunlop,
Marketing & Communications
t 563.345.6651
ndunlop@figgeartmuseum.org
PRESS RELEASE
FOR IMMEDIATE RELEASE
Submerged in the Sublime: The Landscape Photography of Kim Keever
Opening Saturday at the Figge Art Museum
Davenport, Iowa (February 4, 2019) – The Figge Art Museum will feature Submerged in the Sublime: The Landscape Photography of Kim Keever beginning Saturday in the museum's fourth floor gallery.
Artist Kim Keever's landscape photographs are no ordinary photographs. Rather than images of actual places, Keever, a former engineer with a background in fluid dynamics, creates fictitious scenes within the confines of a large fish tank.
Keever produces handmade dioramas that he submerges into the tank and then adds various paints and inks to the water to create atmospheric effects. Through the combination of carefully orchestrated lighting and the uncontrollable effects created by the paints dissipating in the water, a bizarre landscape appears that he must quickly capture with his large format camera.
The resulting large-scale photographs have often been compared to 19th century paintings of Hudson River School artists like Thomas Cole and Albert Bierstadt and simultaneously feel like a primordial landscape and a vision of a post-apocalyptic future.
Submerged in the Sublime, on view through May 12, will feature 23 examples of Keever's work as well as an image showing his working process.

Keever lives and works in New York City. His work can be found in numerous collections, including the Metropolitan Museum of Art, the Museum of Modern Art and the Hirshhorn National Museum of Modern Art in Washington, D.C.
Companion Events:
Free Family Day
10 a.m.-1 p.m. Saturday, February
Free admission all day
Join us for special activities for the entire family inspired by the current exhibitions.
Artist Talk
Thursday, February 28
4 p.m. Happy Hour Menu / Cash Bar
6:30 p.m. Talk
Artist Kim Keever will introduce his exhibition and delve into the intricacies of his artistic process.
Exhibition and Collection Highlights Tours
1:30 p.m. Saturday, February 23, March 9, 23, April 13, 27, May
1:30 p.m. Sunday, February 24, March 10, 24, April 14, 28, May 5
About the Figge Art Museum:
The Figge Art Museum is located on the Mississippi River in downtown Davenport at 225 West Second Street. Hours are from 10 a.m. to 5 p.m., Tuesday through Saturday; Sundays noon to 5 p.m.; Thursdays the museum is open until 9 p.m. Admission to the museum and tour is $10 for adults, $6 for seniors and students with ID and $4 children ages 4-12. Admission is free to Figge members and institutional members, and always free to all on Thursday evenings from 5 p.m. to 9 p.m. The Figge Café is open 11 a.m.-2 p.m. Tuesday-Friday. To contact the museum, please call 563.326.7804, or visit www.figgeartmuseum.org.
–END–