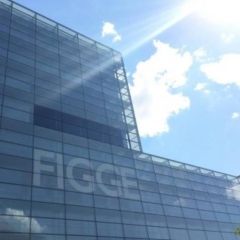 PRESS RELEASE
Final Week of Tiffany Glass Exhibition at the Figge Art Museum to Have FREE Admission
July 18, 2019
---
Davenport, Iowa (May 9, 2019) – The Figge Art Museum will be FREE to all Saturday, May 11 – Sunday, May 19 during the final days of the Louis Comfort Tiffany: Treasures From the Driehaus Collection exhibition.
Visitors will have full access to the entire museum including the permanent collection galleries as well as Louis Comfort Tiffany: Treasures From the Driehaus Collection, Submerged in the Sublime: The Landscape Photography of Kim Keever, Art Nouveau Amphora and Vanessa German: Miracles and Glory Abound opening May 11 in the second-floor Katz Gallery.
Louis Comfort Tiffany: Treasures From the Driehaus Collection, sponsored by Arconic, US Bank, Xenotronics, MidAmerican Energy, Schafer Interiors, Jumer's, John Gardner and Cathy Weideman, features 62 works created by Tiffany's studios. "These priceless pieces won't be seen again in the Quad Cities in the foreseeable future," said Executive Director Tim Schiffer. "In honor of Mother's Day, national Art Museum Day, and in recognition of the generous sponsors who have made the exhibition possible, we are offering free admission for the final ten days. We hope the gift of art will help heal and inspire our community after this year's harsh winter and devastating flood."
From small blown glass vases to breathtaking stained-glass windows and a spectacular selection of lamps, the exhibition demonstrates the craftsmanship and inventiveness of Tiffany artisans.
This free admission period will end on May 19. Visitors may park on the Figge Plaza, the parking garage located at 2nd and Harrison or street parking is also available.
About the Figge Art Museum:
The Figge Art Museum is located on the Mississippi River in downtown Davenport at 225 West Second Street. Hours are from 10 a.m. to 5 p.m., Tuesday through Saturday and Sunday from noon to 5 p.m. Thursdays the museum is open until 9 p.m. Admission to the museum and tour is normally $10 for adults, $6 for seniors and students with ID and $4 children ages 4-12, but will be FREE from May 11–May 19, 2019. Admission is free to Figge members and institutional members, and always free to all on Thursday evenings from 5 p.m. to 9 p.m. The Figge Café is open 11 a.m.-2 p.m. Tuesday-Friday. To contact the museum, please call 563.326.7804, or visit www.figgeartmuseum.org.