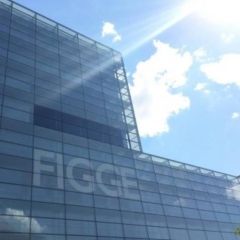 PRESS RELEASE
Figge Art Museum: Let there be Light $4 Million Evanescent Field Public Light Sculpture Receives Funding
December 15, 2022
---
Davenport, Iowa (December 15, 2022) – The Figge Art Museum was awarded $1.6 million through Iowa Economic Development Authority's Destination Iowa Creative Placemaking Fund to support the installation of a new public light sculpture, Evanescent Field, by internationally acclaimed light artist Leo Villareal. Villareal is known for his site-specific light installations, including San Francisco's Bay Bridge, The Bay Lights; Illuminated River, a public work of art that unites 9 London bridges through one artwork; Multiverse, a tunnel installation at the National Gallery of Art; and more. Villareal uses binary code and simple structures to create complex light sequences through custom software that incorporates a site's environment, creating a "digital campfire" around which people can gather to experience art.
Lighting the Figge is 20 years in the making. When British architect Sir David Chipperfield designed the museum's current building, the original intent of both the architect and our community was to illuminate its glass façade to provide an ethereal glow at night. Cost overruns during construction prevented this from happening, but over the years an idea arose to move beyond conventional building lighting to transform the Figge through light and art, making it a public artwork that all in the community can experience.
"We are so grateful to Governor Reynolds and Destination Iowa for this important investment in Davenport and arts and culture," said Michelle Hargrave, Executive Director and CEO of the Figge Art Museum. "The State's support in conjunction with contributions from the Regional Development Authority, the Bechtel Charitable Trusts, and other generous donors, will bring the work of internationally renowned artist Leo Villareal to all in our community and will energize the riverfront for residents and visitors in exciting ways."
Leo Villareal will work with RDG Lighting in Des Moines and Figge staff to realize Evanescent Field, a light sculpture comprising over 3,000 linear feet of powerful full-color LED fixtures. The sculpture will be integrated into all four sides of the building to fully activate the space and maximize the artwork's impact. Activated at nightfall, this light sculpture will brilliantly illuminate the Figge's landmark glass building, enhancing the riverfront by providing cultural, educational, recreational, and community-building opportunities for residents and increasing tourism to the region.
Through software and over 1,000 LED lights, Villareal's innovative, constantly changing light sculpture will illuminate all four sides of the building. "I am honored and excited by the invitation to create a public artwork called Evanescent Field at the Figge Art Museum," said Leo Villareal. "This lighting sculpture will be integrated into David Chipperfield's stunning architecture with the goal of activating the museum through sequences of undulating light for everyone in the Quad Cities to enjoy." Sir David Chipperfield, the architect of the landmark glass building stated, "I am delighted to hear that the original plan to illuminate the façade will finally become a reality and look forward to seeing the realized project personally as soon as possible."
The project is estimated to cost $4 million. The Destination Iowa award will provide $1.6 million for the Figge Art Museum's light sculpture, and the Figge will contribute the additional $2.4 million needed for the lighting of its façade.
The Figge partnered on the Creative Placemaking application with the City of Davenport, which received $8 million for a series of signature projects intended to enhance the Davenport riverfront. The museum and the City's initiatives are part of multi-year efforts to revitalize and improve Downtown Davenport, and public art sculptures, such as Villareal's, drive community engagement and tourism and have significant economic impact. For example, during its initial two-year run, Villareal's The Bay Lights in San Francisco was seen by over 50 million people in the Bay Area with billions of media impressions globally. The economic impact assessment conservatively estimated that $97 million was added to the local economy. In Iowa, the High Trestle Bridge in Madrid, IA, which incorporates public art and lighting, draws around 250,000 people each year.
Evanescent Field will provide an unforgettable art experience to those visiting downtown Davenport and the waterfront. Everyone within a few miles of the Figge will be able to experience the building's illumination at night. Accessible to all and free of charge, it will help create a more vibrant and livable downtown area that builds regional identity, offers opportunities for connection, and fosters civic pride.
Evanescent Field is made possible through the transformational generosity of the Iowa Economic Development Authority and the Regional Development Authority, as well as a leadership gift from the Bechtel Charitable Trusts. Major donations to the lighting sculpture have been made possible by Patricia Figge (In Memory of John Kahl Figge), Thomas K. and Jennifer Figge, the William and Marie Wise Family Foundation, and the late Don and Connie Decker. Generous funding is also provided Andrew and Debi Butler, Wynne and David Schafer, and a collaborative memorial gift in honor of the late John Kahl Figge from John O. and Lisa Figge, Michael J. and Jennifer Figge, Patricia Figge Glowacki, Elizabeth Figge Lemek and Brian Lemek, and Mary Figge Power and John Power. Evanescent Field is also made possible through generous support by Carmen and Jack Darland, John Anderson, Joseph D'Souza, Don Doucette and Lynn Drazinski, Patrick and Kristena Downing, Ken Koupal and Tom Kersting, Carolyn and Joseph Martin, Anonymous, Aleeza Singh and Kyle Ekberg, Mark and Dana Wilkinson, Matt and Tracy Schwind, and Annika Tunberg.
About the Figge Art Museum: The Figge Art Museum is dedicated to bringing art and people together. Located on the Mississippi River in downtown Davenport at 225 West Second Street, the Figge is the premier art exhibition and education facility between Chicago and Des Moines. Its landmark glass building, designed by British architect David Chipperfield, is home to one of the Midwest's finest art collections and presents world-class exhibitions, art classes, lectures, and special events that attract visitors of all ages. Museum hours are 10 a.m.­­-5 p.m. Tuesday, Wednesday, Friday, and Saturday; 10 a.m.-8 p.m. on Thursdays; and 12-5 p.m. on Sundays. Reservations are not required but can be made at www.figgeartmuseum.org or by calling 563-345-6632. Admission to the museum is $10 for adults, $6 for seniors and students with ID and $4 children ages 4-12. Admission is free to Figge members and institutional members and to all on Thursday evenings. You can become a member for as little as $50 by visiting the Figge website. To contact the museum, please call 563.326.7804, or visit www.figgeartmuseum.org.
-END-