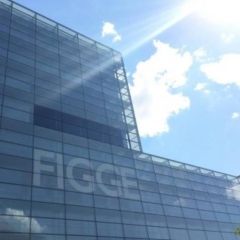 PRESS RELEASE
Dress For Success Benefit Concert to be Held at the Figge Art Museum
July 18, 2019
---
Davenport, Iowa (May 16, 2019) – A benefit concert will be held for Dress for Success Quad Cities, which lost its home due to the recent flood in downtown Davenport. Florida-based musicians Katia Valdeos and Davenport native Cynthia Haring will perform in the Figge's Quad-City Bank & Trust Grand Lobby on Friday, May 24th at 6 p.m.
Doors will open at 5:30 p.m. and beverages will be available for purchase in the Figge Cafe. A suggested donation of $10 or more will be taken at the door with all proceeds going to Dress for Success Quad Cities.
Founder and Executive Director of Dress for Success Quad Cities, Regina Haddock said, "The proceeds will help to bring client services back to capacity, to replace equipment and inventory lost in the flood, and to help secure a new location."
Dress for Success is a non-profit that serves under-employed and unemployed women in the Quad Cities by providing a network of support, professional attire and development tools to help them thrive in work and life. Dress for Success clients, who are referred by area agencies, receive training in job searches and interviewing, including dressing for the workplace. Founded nine years ago by Regina Haddock, the organization lost its offices and much of its inventory of apparel in the recent floods.
"As soon as I heard about the flood I knew I wanted to do something to help," said Musician Cynthia Haring. Haring and Valdeos are the directors of the World Nation Children's Choir that brings together talented young musicians from all backgrounds to perform together. Their recent album "School of Fish" will be available for purchase at the event. "We are hoping this concert will bring attention and support to the great work that Dress for Success does, and to their need to find a new home for the organization," she added.
Parking is available on the Figge Plaza, surrounding streets or parking garages near the museum.
About the Figge Art Museum:
The Figge Art Museum is located on the Mississippi River in downtown Davenport at 225 West Second Street. Hours are from 10 a.m. to 5 p.m., Tuesday through Saturday and Sunday from noon to 5 p.m. Thursdays the museum is open until 9 p.m. Admission to the museum and tour is $10 for adults, $6 for seniors and students with ID and $4 children ages 4-12. Admission is free to Figge members and institutional members, and always free to all on Thursday evenings from 5 p.m. to 9 p.m. The Figge Café is open 11 a.m.-2 p.m. Tuesday-Friday. To contact the museum, please call 563.326.7804, or visit www.figgeartmuseum.org.