High School Summer Drawing Program
Check back in 2022 for summer 2022 dates!
Portfolio Day at the Figge
In preparation for winter scholarship and college application deadlines, the Figge holds a portfolio day, where area colleges and universities are joined by schools from outside the area to provide one-on-one feedback to students on their portfolios. Check back here in August 2022 for Portfolio Day information. Call 563-345-6654 or [email protected] for more information.
Brand Boeshaar Scholarship

Since 2000 the Brand Boeshaar Scholarship Program has awarded $700,000 to graduating high school seniors in eastern Iowa and western Illinois who wish to study fine arts, design, architecture or art education in college. To be considered for this prestigious $12,000 scholarship, applicants must submit a completed application, high school transcript, two letters of support and a portfolio of 12 works. The program is funded by the Brand Boeshaar Foundation Fund, managed by the Figge education department and administered by the Quad Cities Community Foundation.

There are four scholarships:
1. Isabelle M. Brand Scholarship
2. Lillian L. Brand Scholarship
3. Lucille Brand Scholarship
4. William Brand Scholarship
Check back in 2022 for a printable and interactive application. Contact Heather at [email protected] with questions.
Figge Factory T-Shirt Design Contest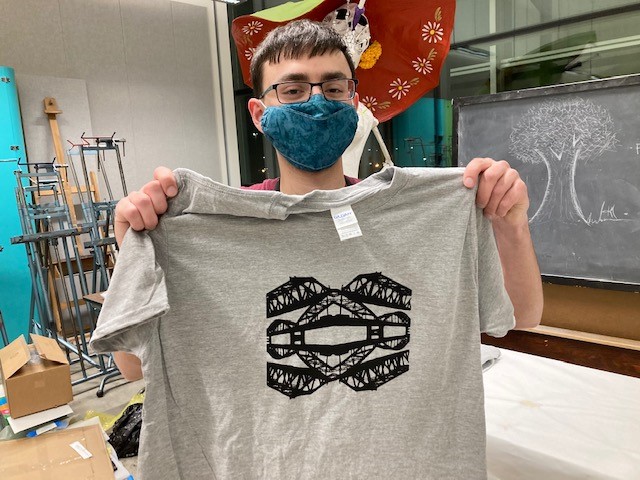 Every winter the Figge holds the Figge Factory T-Shirt Design contest, where area High School artists and designers send in their ideas for a T-shirt. The winning design is printed on to a shirt tha is then sold in the Museum Store. This year's winner is:

Name: Andres Gonzalez
Design title: Bridges
High School: Geneseo
Year in School: Senior
Call 563-345-6654 or [email protected] for more information.