Family Explorer Series: Inside the Outreach Collection (Virtual)
Join educator Kelsey Vandercoy for a live peek into the Figge's outreach collection. Each week participants will explore the shelves of countless objects that will be presented during a live video discussion. In February and March, videos related For America will be shown.
Registrants will receive a Zoom link through their email set for the live day, cost will be $5 per household and sessions will take place every other Wednesday at 3:30 p.m. for 30 minutes.
To register, click the link of the desired date(s):
A is for Art
Preschoolers (ages 3-5) are invited to join Figge educator Laura Wriedt over Zoom for lively discussions about what we see in art. Each week will highlight works from the exhibition For America and provide an opportunity to share thoughts and observations through the eyes of our youngest art experts.
Sessions will last roughly 20 minutes and will be limited to 12 registrants. Cost is $5 per family.
Click the desired date(s) to register!
Big Picture In the House (VIRTUAL)

The Figge's Big Picture program went virtual and now you can view the lessons from the comfort of home. This program is suggested for ages 6-12 years old (younger children are required to have an adult helper).
Family Activity Center is NOW CLOSED
We're sorry but the Family Activity Center is closed until further notice to ensure the safety of all guests and staff members. We look forward to when we can open it again with fun projects to share with you and your family.

If you have additional questions regarding the Family Activity Center, please contact Brian Allen at 563.345.6654 or ballen@figgeartmuseum.org.
Boy Scout Programs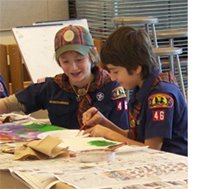 Boy Scouts of all ages can have fun learning experiences while earning arts and crafts badges/patches at the Figge Art Museum. A guided tour of the Figge's permanent galleries and traveling exhibitions is included in each workshop. Badge workshops are 3-hour events and include completion of all requirements for the particular badge the boys are working towards.
We also offer non-badge workshops through our Partner Program. Scout packs can schedule one of these 2-hour events that includes a guided museum tour and a studio art experience. Activities accomplished in a Partner Program can be often be applied toward one of the art badges in the Boy Scout manual. Registration is required a minimum of 2 weeks before the scheduled event. A minimum of 10 Scouts/workshop is required. Call 563.345-6654 or ballen@figgeartmuseum.org to schedule a workshop.

Girl Scout Programs
For more information about programs for Girl Scouts, visit the Girl Scout website or contact Brian Allen at 563.345-6654 or ballen@figgeartmuseum.org

Summer Art Workshops for Kids
The museum offers all-day workshops for kids during the summer—Fridays at the Figge classes for children completing grades K–5, and Art in the Middle classes for middle school students. Check back in 2021 for summer workshops!

Birthday Fun at the Figge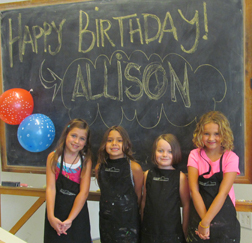 Have a fun, creative birthday party! The Figge is equipped to make any birthday celebration a memorable one for your child. Multiple options are available and are geared towards specific age groups. To schedule a party, please contact Brian Allen, ballen@figgeartmuseum.org or 563.345.6654.