Family Explorer Series: Inside the Outreach Collection (Virtual)
Join educator Kelsey Vandercoy for a live peek into the Figge's outreach collection. Each week participants will explore the shelves of countless objects that will be presented during a live video discussion. In February and March, videos related For America will be shown.
Registrants will receive a Zoom link through their email set for the live day, cost will be $5 per household and sessions will take place every other Wednesday at 3:30 p.m. for 30 minutes.
To register, click the link of the desired date(s):
Camp Figge: Art for Kids (Ages Pre-K through 8th Grade)
POP down to the Figge this summer for fun-filled creative camps! Camp Figge: Art for Kids is back and kids ages Pre-K through 8th grade are invited for week-long sessions that encourage self-expression, imagination, and critical thinking skills. Aspiring young artists will experiment with different media, experience guided tours of the Figge collection, take part in studio discussions, and more!
Big Picture In the House (VIRTUAL)

The Figge held five weeks of virtual FREE programming for the Big Picture in the House series during the summer of 2020. Sessions were streamed live from the museum and can be accessed below.
Family Activity Center is NOW CLOSED
We're sorry but the Family Activity Center is closed until further notice to ensure the safety of all guests and staff members. We look forward to when we can open it again with fun projects to share with you and your family.

If you have additional questions regarding the Family Activity Center, please contact Brian Allen at 563.345.6654 or ballen@figgeartmuseum.org.
Boy Scout / Girl Scout Programs
While we are not currently hosting in-person scout programs, we are happy to set up virtual workshops for your scout group. Call 563-345-6654 or ballen@figgeartmuseum.org with questions or to schedule a virtual workshop.

Birthday Fun at the Figge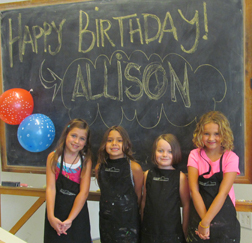 Have a fun, creative birthday party! The Figge is equipped to make any birthday celebration a memorable one for your child. Multiple options are available and are geared towards specific age groups. To schedule a party, please contact Brian Allen, ballen@figgeartmuseum.org or 563.345.6654.