The Big Picture: Using Art to Teach Across the Curriculum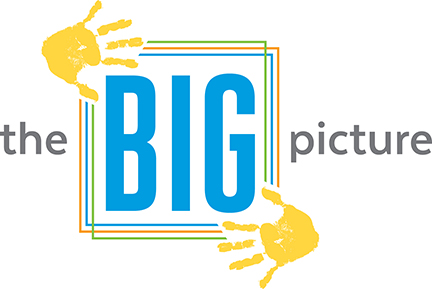 The Big Picture connects K-12 curriculum topics with art to teach "big picture" ideas from a visual perspective. Figge staff members visit classrooms to deliver 45-minute PowerPoint presentations that are focused on the areas of math, science, language arts, social studies and visual arts. Each of these presentations includes time for guided student discussion and, in some cases, art objects will be brought to the classroom for a hands-on experience.
For information on how your school or organization can become part of The Big Picture or to schedule, contact:
Laura Wriedt
lwriedt@figgeartmuseum.org | 563.345.6641

Download a complete listing of Unit Descriptions offered from the Big Picture.
What to Expect
The Big Picture is designed for K-12 classrooms. Most topics can be modified to be age-appropriate.

This academic year, thanks to generous support, classroom presentations are FREE during regular school day hours. The Big Picture Program can also come to out-of-school programs; the fee for this is only $25/visit.

A Figge staff member will bring necessary presentation equipment, including a laptop and digital projector. If your classroom already has this equipment in place, please indicate this when you schedule a visit.

Classroom teachers are responsible for providing a projection area and a flat surface for the equipment. It should be noted that the projection quality increases in classrooms that can be darkened.


Visit the Figge
Once The Big Picture Program has reached your students, this is an ideal time to enhance student learning with a visit to the museum. Our docent-guided tours help your students build vocabulary and develop critical thinking skills, while introducing students to the visual arts. Complement your tour with sketching in the galleries or a writing assignment.

Reservations can be arranged with Heather Aaronson at 563.326.7804 x2045 or haaronson@figgeartmuseum.org. Tours can be scheduled Tuesday-Friday 9 am-4:30 pm.
Feedback
Teachers:
---
"I wanted to express my gratitude and appreciation for Figge's The Big Picture Program this last school year. The students at the Juvenile Detention Center as well as the school staff have found the presentations interesting and engaging. Laura is a significant part of the presentation as she maneuvers through the history and techniques of the various artists and styles used throughout the world and time…. Your program has been developed with some of the key concepts of the Common Core in mind, which makes it easy to prove its value for our students to my administration. Thank you again for how you have encouraged our students in learning new techniques and stretching their talents and abilities." Brice McKinney, Scott County Juvenile Detention Center Classroom

"Every year my eighth grade English students read a dramatized version of "The Diary of Anne Frank," and for the last six years they have learned about the role of art in the time period from a representative of the Figge's education department and the presentation "The Big Picture." This presentation has added so much to the curriculum. The students are amazed to learn that art was important to Adolf Hitler, and that he used it to influence people in multiple ways, a lesson so important for students today! The presentation is always professional, with a visual component and time for questions and answers. The Figge staff is wonderful to work with and I highly recommend enhancing lessons with the expertise of the Figge's education department personnel." Kristen Young, NBCT English Education, John Deere Middle School

"The students were interested in your presentation—it's valuable programs like these that help us all see how very important images are to us. Your presentation gave my students a new interest in art and more importantly how that relates to their world. Thanks for taking art out of the museum and bringing into their lives." Middle School Teacher (Special Programs)

"As an art educator, I am so grateful to The Figge Art Musem's Big Picture Program for providing such a wonderful learning opportunity for our community. Our students benefit from these educational experiences more now than in any of the years I have been teaching. I extend my highest recommendation to all who participate in this magnificent program and encourage anyone who has an opportunity to participate. It has been such a positive addition to the learning experiences of myself and my students. This is a great opportunity to bring the art world to thousands of students." Middle School Teacher (Art)

"I wanted to thank you for coming to our school today. I thought your presentation was grade-appropriate and, most importantly, you offered something to my students that they most likely have never experienced, bringing a fresh perspective that I would have been unable to deliver." High School Teacher (Social Studies)

"Thank you so much for your incredible presentation. You had so many great insights and the kids were really impressed and interested. I know that they will get more out of their Figge fieldtrip because of you." Elementary School Teacher (Art)


Students:
---
"Thank you so much for coming! I hope that you had fun in our class. I love art but there is no art in my school so you made my day happy!"

"Thank you for spending time at our school to teach us about art in World War II. Your presentation was both fascinating and informative. I appreciate what that says about the Figge. I've been to the Figge and your presentation makes me want to go again. Thanks!"

"I very much enjoyed the presentation you showed to our class. It was very interesting and even influenced a current project I'm working on. I hope that soon I'll be able to come to the Figge and see some of the art myself, and hopefully, learn some more."

"Gracias mucho por venir a nuestra clase. ¡Me gusto mucho tu información sobre el arte!"

"I hope I can become a painter when I get older and I can have cool paintings just like John Bloom and Grant Wood and one day I'll be famous just like them!"

"I never knew how art played a role in the Holocaust but now I do. I was very interested in your presentation from beginning to end. My knowledge grew and this makes me want to learn more. It was very amazing how well you knew your information."