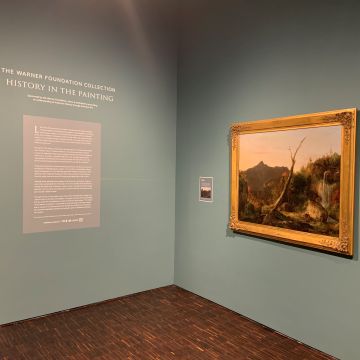 EVENT
Opening Program: History in the Painting
July 7, 2022 | 5:00pm - 8:00pm
LOCATION: Figge Art Museum
Celebrate History in the Painting from The Warner Foundation Collection with a reception that includes light appetizers and complimentary wine and beer with special guests Dr. Susan Warner, Chair of the Warner Foundation, as well as Dr. Graham C. Boettcher (R. Hugh Daniel Director at the Birmingham Museum of Art). Following the reception, Dr. Boettcher will explore the historical context and meaning of the American paintings currently on loan to the Figge from the Warner Foundation, including important works by Thomas Cole, Severin Roesen, Albert Bierstadt, and John Frederick Kensett, among others. Boettcher will also share anecdotes about the legendary collector Jonathan "Jack" Westervelt Warner, who--motivated by a love for his country and American history-- created one of the world's foremost collections of American art.

Please register for your free admission to this event or contact Development Officer Sara Morby at smorby@figgeartmuseum.org or 563.345.6642.
Free admission and programs for Thursdays at the Figge sponsored by Chris and Mary Rayburn.
ART & MORE